1 billion downloads help Firefox maintain momentum
by Stevie Smith - Jul 31 2009, 16:15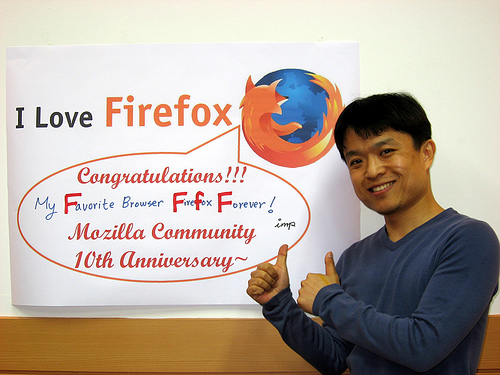 Does he like Firefox? We're not sure. Image: Channy Yun/Flickr.
Microsoft's ever-dominant Internet Explorer shouldn't begin cowering in the corner of the Web browser arena just yet, but the popularity of Mozilla Corporation's rival Firefox continues to grow and has today hit the headlines by surpassing one billion downloads worldwide.
In order to trumpet its landmark achievement, Mozilla used its official Twitter page to post a rolling Firefox Counter that showed the download figure creeping ever closer to the magic billion. At time of writing, the counter sat at 1,000,092,204 downloads and was registering some 23.6 downloads every second.
An open-source alternative to Microsoft's browser – which enjoys the advantage of being bundled by default with every Windows-equipped PC – the Firefox platform currently sits steadfast in second place in terms of market share but remains unable to convincingly loosen Internet Explorer's grip.
According to share figures released by W3counter in June, Microsoft's Internet Explorer holds approximately 60 percent of the market, while Mozilla's Firefox boasts around 34 percent. It's perhaps worth noting that Internet Explorer's share was in excess of 90 percent as recently as two years ago.
While it remains to be seen if Firefox can eventually haul back Internet Explorer, the latest build of Mozilla's browser (version 3.5) required only 24 hours to amass around 5 million downloads when it launched on June 30 of this year.
The clear popularity of Firefox 3.5 follows on from an even greater achievement a year earlier when version 3.0 of the browser racked up a record-breaking 8 million downloads during its first day of full availability.
Want regular updates from The Tech Herald? Follow us on Twitter.
Interested in a more interactive TTH? Join our Facebook Group.
Around the Web
comments powered by Disqus