Amazon launches Kindle Owners' Lending Library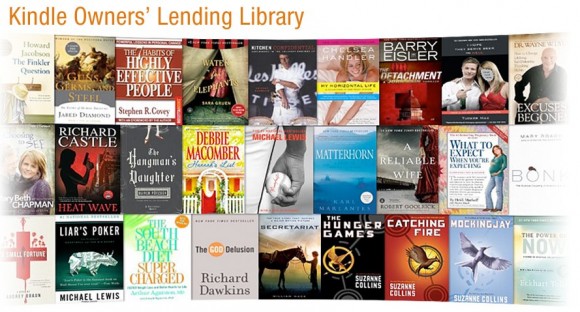 Image: Amazon.
Good news for those of you who use Amazon Prime and own a Kindle electronic reader: Amazon has this week whipped the covers off its Kindle book-lending service.
"The Kindle Owners' Lending Library is a great new benefit for Kindle owners and an entirely new growth opportunity for authors and publishers," trumpeted Russ Grandinetti, vice president of Kindle Content.
"With this launch, we expect three immediate results: Kindle owners will read even more, publisher revenues will grow, and authors will see larger royalty checks," he added.
Beyond boasting an initial selection of 5,000 publications, the digital Kindle library will also enable customers to have loan-based access to more than 100 current and former titles from the New York Times Bestseller list.
Of course, plucking books from the library isn't entirely 'free' and, in order to use it, Kindle owners must also be subscribers to Amazon's Prime service, which costs $79 USD per year.
On the up side, that monetary outlay enables readers to loan books without a time limit—although only a single title can be lent out at any one time.
Like this article? Please share on Facebook and give The Tech Herald a Like too!
From our Other Sites
Some more pics of the new Porsche 911 GT3 RS. The car got its world premiere at the Geneva Motor Show, further details here.

New Porsche 911 GT3 RS World Premiere

The new Porsche 911 GT3 RS got its world premiere at the Geneva Motor Show. Porsche says the GT3 RS has the max amount of motorsport tech that they could get into a street legal 911 and still be driven as an every day car.Its 4.0 liter six cylinder engine puts out 500 horsepower and 338 […]

Some cool pics of Nissan's latest compact hatch idea the Nissan Sway Concept, revealed at the Geneva Show. You can read more about it here.

Nissan have unveiled their new compact hatchback concept car, the Nissan Sway at the Geneva Motor Show. The company say they are looking to shake up the segment with less conservative looks than its rivals.With a glass roof and and no B-pillar they say the small car feels much much larger than you would expect. […]

Lotus Evora 400 Debuts at Geneva

The new Lotus Evora 400 has been unveiled at the Geneva Motor Show. The company says the new Evora is faster and handles better than any of the previous Evora, giving a better drive and improved agility.The car has a mid-mounted 3.5 liter V6 which puts out 400 horsepower and 410 Nm of torque. That will […]

Some cool Nissan Sway Concept wallpaper for your desktop or mobile device. The Sway is the latest small hatchback concept from the Japanese giant and is aimed at the European market.Each image links to a page with multiple wallpaper sizes for you to download.

Awesome Stuff Made Out Of Car Parts

An awesome picture has started doing the rounds showing a bathroom with sinks made out of car tires and faucets created from gas pumps. It's the ideal bathroom for any discerning car nut. That got us thinking — what other stuff is there made out of car parts and car paraphernalia. Here are some of the coolest […]

Range Rover Evoque Convertible Confirmed

Land Rover has officially confirmed that the Range Rover Evoque Convertible will go on sale in 2016. The company released some publicity photos showing a prototype of the Evoque Convertible driving through train tunnels under construction in London. The company says use of the Crossrail tunnels let them test the convertible in privacy. A Land […]

Mercedes-AMG GT3 Racing Car to Debut at Geneva Motor Show

The company says the standard Mercedes-AMG GT already provides the ideal base for the race model, with low centre of gravity, good weight distribution and wide track width.The driver sits on a carbon-fibre seat pan and is protected by a roll-over cage made from high-tensile steel.The engine cover, doors, front wing, sidewalls, side skirts, diffuser, […]

Lamborghini Aventador Wallpaper

Lamborghini Aventador wallpaper for your desktop or mobile device. The Aventador LP 700–4 has a 6.5 liter V12 that will go 0–60 mph in 2.9 seconds and take you all the way to 220mph and maybe beyond.Each image links to a page with multiple sizes of wallpaper you can download.