Apple tightens the screw on Third-Party Promotions
by Steven Mostyn - Jun 2 2011, 13:10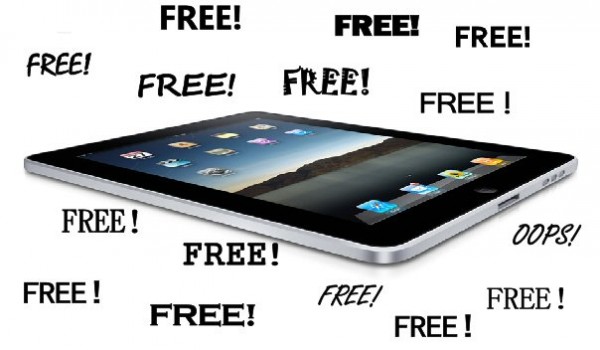 Know of a free iPad promotion? Use it while you can. Image: Apple(doctored).
There once was a time when the iPhone and the iPad were hard to find, and purchasing once was considered something of a retail achievement. These days, of course, it seems there's no shortage of Apple's iconic devices and certain retailers are pretty much giving the things away.
However, such blissfully easy access is seemingly not sitting well with the Cupertino-based technology behemoth, particularly when it comes to its trend-setting products being used by retailers and/or businesses as incentive to secure custom.
More pointedly, Jobs & Co. are stringently enforcing new rules via the two-page "Guidelines for Third Party Promotions" document, which has been drafted to control offline and online sweepstakes and promotional deals.
According to Apple's guidelines, the iPad tablet, iPhone smartphone and iPhone Gift Card cannot be used in conjunction with any third-party promotions, and the iPod Touch can only be used as long as a minimum of 250 units are purchased.
Apple's rules also outline that third-party promotions using Apple products cannot describe them as 'free', while official product imagery must not be changed in any way (personally crafted product photography is allowed), and "only the most current" device iterations can be offered.
Taking things to the point of anal, Apple demands that all promotions are submitted to it for final review, the Myriad Set font cannot be applied on promotional materials, and "Apple is not a participant in or sponsor of this promotion" must be added to all approved deals.
Around the Web
comments powered by Disqus