Ballmer takes a swipe at Android and iPhone
by Steven Mostyn - Oct 19 2011, 10:41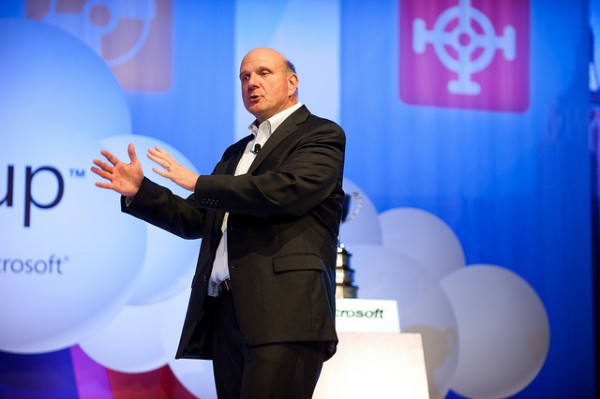 Really, Steve... ya think? Image: Imagine Cup/Flickr.
Looking beyond obvious bias brought on by corporate loyalty, it would appear Microsoft chief executive Steve Ballmer is no great fan of smartphones powered by Google Android.
According to a Telegraph report, Microsoft's often outspoken boss has this week suggested that Android users need to tackle an extremely steep learning curve when navigating through Google's apparently confusing mobile operating system.
"You don't need to be a computer scientist to use a Windows phone, and you do to use an Android phone," he said during the Web 2.0 Summit in San Francisco. "It is hard for me to be excited about Android phones."
And, not limiting his barracking of the opposition to just Google, Ballmer also indicated that the Apple iPhone's iOS software is bogged down by navigational fluff—while Windows phones are more immediate in being user-centric.
"Both [the iPhone and any Windows phone] are going to feel very good in your hand and both are going to look very beautiful physically," he said.
"But when you grab a Windows phone and use it… your information is front and center," he added. "You don't have to scroll through seas of icons and blah, blah, blah. A Windows phone gets things done."
While we here at Tech Herald Towers admire Ballmer's staunch faith in the Windows phone platform, we feel it necessary to point him in the direction of current smartphone sales figures, which outline that many, many millions of users much prefer the iPhone or an Android alternative over a handset powered by Microsoft.
According to the latest quarterly data released earlier this month by comScore, Google Android holds 43.7 percent of the U.S smartphone market, while Apple iOS follows in second with 27.3. Handsets powered by Windows Phones 7 account for a mere 5.7 percent of the market.
You simply can't argue with the consumer, Steve. Just ask HP.
Around the Web
comments powered by Disqus