CES: Razer wows with Core i7 'Project Fiona' gaming tablet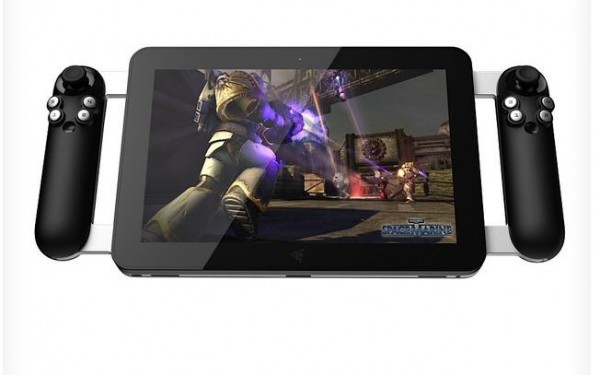 Image: Razer.
The majority of today's tablet devices are perfectly suited to those users with computing needs that stretch no further than casual Net surfing, watching movies, or playing videogames.
Saying that, gadget lovers with a more hardened penchant for gaming aren't really catered for in the tablet market. Indeed, prospective buyers expecting to enjoy cutting-edge titles will be sadly disappointed by the limited capabilities of current tablet platforms.
Until now.
Meet the tantalizingly titled 'Project Fiona', which is a growling tablet of the highest order unveiled by hardware manufacturer Razer during this week's Consumer Electronics Show in Las Vegas.
Although currently only in proof-of-concept form, the 10.1-inch slab promises to deliver true PC gaming in a tablet format via a combination of its Windows 8 operating system, Intel Core i7 processing technology, and gorgeous 1280x800 capacitive display screen.
Beyond the obvious addition of handgrips, dual analogue control sticks, and conventional gameplay buttons, other features aboard the Razer tablet include a hybrid UI, an accelerometer, force feedback vibration, Dolby 7.1, Wi-Fi and Bluetooth connectivity, and a built-in camera.
Final hardware details for the tablet are as yet unknown, but Matt Buchanan of Gizmodo notes that the prototype he witnessed was effortlessly running Warhammer 40K: Space Marine. Said game's minimum requirements are a dual-core 2.0GHz processor, 2GBs of RAM, and a 256MB video card.
While currently bulky to the point of being ungainly—with a profile around three times thicker than the iPad—the Project Fiona gaming tablet is expected to thin significantly as Razer and its team of former OQO engineers evolve the device towards its final iteration.
Razer has not yet said when the device will be ready for retail, but it is hoping to unleash its portable PC beast before the close of 2012 attached to a price tag below $1,000 USD. Mmm, we want one.
Like this article? Please share on Facebook and give The Tech Herald a Like too!
From our Other Sites
Aston Martin DBX Concept Pictures

Some pictures of the new concept from Aston Martin. The Aston Martin DBX Concept would feature in-board electric motors in each wheel and be bristling with high tech driver aids, details here.

Aston Martin DBX Concept Debuts

Aston Martin have been showing off their latest ideas for luxury GT travel at the Geneva Motor Show with the Aston Martin DBX Concept. The DBX Concept is all-wheel drive and has plenty of luggage space, with both a rear trunk and foreword load bay.The paint job features a custom Black Pearl Chromium finish. The […]

Some more pics of the new Porsche 911 GT3 RS. The car got its world premiere at the Geneva Motor Show, further details here.

New Porsche 911 GT3 RS World Premiere

The new Porsche 911 GT3 RS got its world premiere at the Geneva Motor Show. Porsche says the GT3 RS has the max amount of motorsport tech that they could get into a street legal 911 and still be driven as an every day car.Its 4.0 liter six cylinder engine puts out 500 horsepower and 338 […]

Some cool pics of Nissan's latest compact hatch idea the Nissan Sway Concept, revealed at the Geneva Show. You can read more about it here.

Nissan have unveiled their new compact hatchback concept car, the Nissan Sway at the Geneva Motor Show. The company say they are looking to shake up the segment with less conservative looks than its rivals.With a glass roof and and no B-pillar they say the small car feels much much larger than you would expect. […]

Aston Martin DBX Concept Wallpaper

Some cool Aston Martin DBX Concept wallpaper for your mobile device or desktop. This concept really is looking pretty far into the future and features electric motors in the wheels and a multitude of driver aids.Each picture goes to a page with multiple sizes of wallpaper so you can find the right one.

Lotus Evora 400 Debuts at Geneva

The new Lotus Evora 400 has been unveiled at the Geneva Motor Show. The company says the new Evora is faster and handles better than any of the previous Evora, giving a better drive and improved agility.The car has a mid-mounted 3.5 liter V6 which puts out 400 horsepower and 410 Nm of torque. That will […]

Some cool Nissan Sway Concept wallpaper for your desktop or mobile device. The Sway is the latest small hatchback concept from the Japanese giant and is aimed at the European market.Each image links to a page with multiple wallpaper sizes for you to download.

Some cool Porsche 911 GT3 RS wallpaper for your desktop or mobile device. The new 911 GT3 RS for 2016 has a 4.0 liter engine and puts out 500 horsepower, will get you to 60 mph in about 3.1 seconds.Each image leads to a page with multiple wallpaper sizes so you can find the right one.