Construction officially begins on Spaceport America
by Stevie Smith - Jun 22 2009, 17:20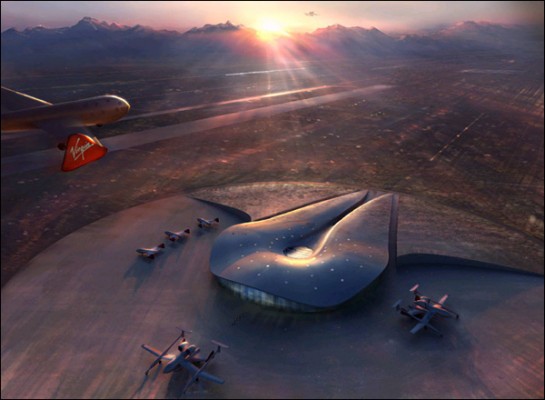 And only $200,000 USD per flight. Sign us up for three seats every Friday. Image: Spaceport America.
While not a spaceport in the traditional science fiction sense, NASA's famous Kennedy Space Center has served as USA's official gateway to the stars for decades. That could soon change, however, as long-awaited construction begins this week on Spaceport America.
Set to gradually take shape in a remote corner of Sierra County, New Mexico, approximately 45 miles outside Las Cruces, the spaceport's most telling function will see it serving as an operational hub for private citizens, much in the same way as a conventional airport.
Funded by American tax dollars, but likely not within reach of most American tax payers, the spaceport's commercial service will see opulent tourists paying around $200,000 USD for the privilege of securing a seat aboard Virgin Galactic sub-orbital space flights.
Attending the construction site's official opening, New Mexico Governor Bill Richardson said that the spaceport "will be a signal that America needs to regain its leadership in space," and that the state of New Mexico now "leads the nation in [terms of] commercial space."
Launching from a 10,000-foot runway attached to a specially designed high-flying mothership, the small rocket-equipped spacecraft will then detach and blast through a further distance of 62 miles before achieving its sub-orbital positioning and returning to earth two hours later.
According to Virgin Galactic, some 300 seats have already been reserved for its upcoming flight service, which is scheduled to begin operating from Spaceport America in the latter part of 2010.
The state of New Mexico has invested some 200 million USD into the project.
The Tech Herald: Virgin Galactic moves closer to commercial space travel
The Tech Herald: Virgin Galactic rolls out space tourism aircraft
Want regular updates from The Tech Herald? Follow us on Twitter.
Interested in a more interactive TTH? Join our Facebook Group.
Around the Web
comments powered by Disqus