Duke Nukem forever in development as game shunted to June
by Steven Mostyn - Mar 24 2011, 14:36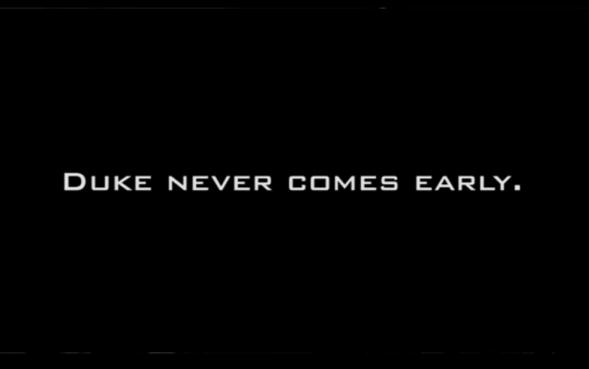 Yawn. Image: Gearbox Software.
The cheque's in the mail. You won't feel a thing. The dog ate my homework. Of course I'll respect you in the morning. All dishonest statements we're instantly wary of due to personal experience.
But while no one likes being lied too, perhaps when we're beaten around the head with the same lie, over and over and over, we eventually become numb to any resulting sense of dizzying disappointment.
Take, for example, those incredibly patient videogame consumers who've been awaiting the return of everyone's favourite potty-mouthed hero Duke Nukem for an unbelievable 15 years.
Having been bombarded with promises of imminent release for such a long time, it will come as no surprise whatsoever to long-suffering Duke Nukem fans (if any still remain), to learn that Duke Nukem Forever has been delayed. Again.
Despite the game supposedly heading for a concrete release date of May 6, developer Gearbox Software—which rescued the franchise after original creator 3D Realms shuttered—has announced the wisecracking 80's action hero won't be stomping alien scum until at least June 10.
"I'm very sorry for the added delay. We've all been working extremely hard and are very eager to deliver the game to you," explained Gearbox boss Randy Pitchford. "If you're like me, June cannot come quickly enough."
To be honest, having played Bulletstorm, which trades on the same coarse humour as the Duke's games, but surrounds the player with creative gameplay, we here at The Tech Herald doubt there's anyone left who cares when or if Duke Nukem Forever ever makes it to retail.
"We thank Duke's fans for their continued patience—I promise this won't take another 15 years," quipped Christoph Hartmann, president of publisher 2K Games.
At least Gearbox attempted to put a light-hearted spin on the news...
Around the Web
comments powered by Disqus