Experts claim Antarctic ice shelf is 'likely to break up'
by Rich Bowden - Jul 10 2008, 21:22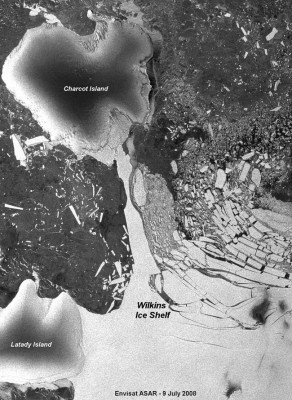 Image: Wilkins Ice Shelf. Credit: ESA
Scientists monitoring the Wilkins Ice Shelf in Antarctica say it will likely break up in the next couple of days, putting at risk thousands of kilometres of further ice shelf.
The break-up is the first to be witnessed in winter and has been captured using the European Space Agency's (ESA) Envisat satellite.
The Wilkins Ice Shelf is connected between two islands, Charcot and Latady, though during February 2008 a massive 400 km˛ broke away from the formation. The latest melting reduces the gap between the islands to just 2.7km.
According to Dr. Matthias Braun from the Centre for Remote Sensing of Land Surfaces at Bonn University, and Dr. Angelika Humbert from the Institute of Geophysics at Münster University, both of whom have been investigating the dynamics of the Wilkins Ice Shelf for months, this break-up is not complete.
"The remaining plate has an arched fracture at its narrowest position, making it very likely that the connection will break completely in the coming days," they said in an ESA statement. The two scientists are part of the 2007-2008 International Polar Year (IPY), a worldwide monitoring programme aimed at studying the Arctic and Antarctic.
"Since the connection to the island... helps stabilise the ice shelf, it is likely the breakup of the bridge will put the remainder of the ice shelf at risk," the ESA release warned.
Scientists are concerned over the latest development because it occurred in the Antarctic winter, a time when atmospheric temperatures are at their lowest. Agence France Presse (AFP) reports some experts are theorising the rapid melting may be occurring as warmer water from the Southern Ocean is hitting the underside of the ice shelf, melting it from below.
David Vaughan of the British Antarctic Survey (BAS) is quoted by the news agency as saying scientists were "too conservative" in their estimates of the disappearance of the Wilkins Ice Shelf.
"[The] Wilkins Ice Shelf is the most recent in a long, and growing, list of ice shelves on the Antarctic Peninsula that are responding to the rapid warming that has occurred in this area over the last fifty years," he said.
"Current events are showing that we were being too conservative, when we made the prediction in the early 1990s that Wilkins Ice Shelf would be lost within 30 years. The truth is, it is going more quickly than we guessed."
Six Antarctic ice shelves have disappeared in the last thirty years, Prince Gustav Channel, Larsen Inlet, Larsen A, Larsen B, Wordie, Muller and the Jones Ice Shelf.

Around the Web
comments powered by Disqus