In Pictures: RSA Conference 2012 (Day 3)
Day three of the conference most certainly lived up to the promise of being the peak of the event. The expo floor was energetic with promotions, demonstrations, speakers, and various activities.
nCircle's 'Leap Year Beer' promotion seemed to (not surprisingly) be a definite hit. Those wanting to get in on the complimentary draft (and mug) kept the line steady and nCircle representatives working hard to keep up with the demand.
As I believe Steve mentioned in a previous article during his coverage, mobile security was not only an especially hot topic this year, but particularly on Wednesday, related booths and demonstrations showed a pickup in activity.
Ira Winkler drew a very nice sized crowd for his presentation 'Zen and the Art of Information Security'.
Many other booths were drawing crowds as well for their presentations, many of which included some very nice contest prizes or participation gifts, such as this one where at least one lucky attendee walked away with a new Kindle Fire.
The EMC presentation on 'What's your InfoSec Alter Ego?' drew a good amount of attention, as has the rather large and creative booth (below) throughout the conference.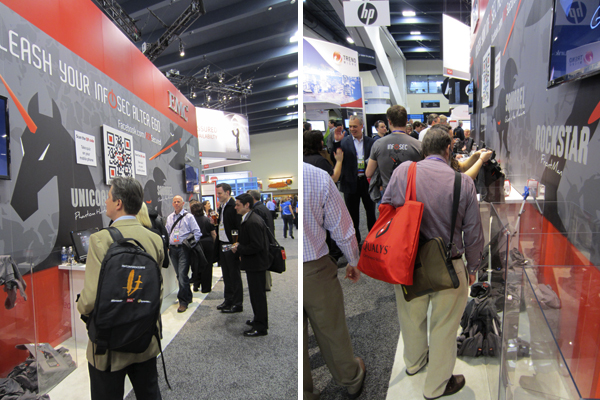 As you can see from the images, the booth was definitely one of the more outgoing and heavily trafficed of the conference. We were fortunate enough to catch a few minutes with Nicholos Sorenson from EMC, the creative mind behind the InfoSec alter ego concept, which matches up your answers from a quiz to align you with various InfoSec personality types, such as Troll, Unicorn, Ninja, Rockstar,and Squirrel. It was an extremely interesting talk to hear about the research that went in behind each alter ego and the foundation the concept is built upon, as well as the actual groups and individuals whose personalities and traits have contributed.
Though things are winding down, and we will no longer be adding new images from the conference to our collection, we still have many yet to post up and will be sorting through them all and bringing you the best and most interesting soon in our wrap up.
Like this article? Please share on Facebook and give The Tech Herald a Like too!