Is McAfee selling 2009 products in a 2010 box?
If a security company was actively selling 2009 anti-Malware products within a 2010 box, is that bad business? Is this false advertising, or at the least misleading? These were the questions sent to me by one of The Tech Herald's readers. Interesting questions, and ones that we plan to have answered.
To be honest, I was skeptical of this tip, but once I saw McAfee's sales plans for myself, I was mystified as to what McAfee was thinking when they utilized this sales strategy.
The reader, who wished to remain anonymous, asked those questions, as well as pointed to comments from Neil J. Rubenking, a reporter and reviewer for PC Magazine. Rubenking was asked by his readers why he hasn't yet reviewed McAfee Internet Security 2010.
"The truth is that McAfee really doesn't operate on a yearly update model; their updates exist as a continuum of incremental changes. Since the consumer wants to see a "new model" they update the year in the product name around the same time the other vendors do," Rubenking wrote.
The fact that McAfee isn't on a yearly schedule, doesn't mean they should sell existing software as a 2010 product. While true, consumers want the latest and greatest, surely they want it upfront, and not in a few months once updates are ready.
At the least, there needs to be a sales disclaimer, something to tell consumers that they are purchasing the current build of McAfee's software, and not the full features of the 2010 offering. On the sites selling the 2010 software, there are no disclaimers.
Amazon has been selling McAfee Total Protection 2010 and McAfee Internet Security 2010 since July, for the retail price of $49.99 and $59.99 USD respectively. In addition, both titles are still in beta phases, with Total Protection 2010 being the current beta release.
"McAfee believes that the best way to keep consumers and businesses protected, is to offer updates to its security products continually, throughout the year. This is the best way to keep ahead of cyberthreats and ensure we are offering updated products at the same pace our customers evolve their needs," a McAfee spokesperson said.
"We regularly release new product features and functionality that gets distributed to all of our customers who maintain active subscriptions. With McAfee's model, consumers who buy the retail 2010 box will automatically get any new features that McAfee releases, and that includes the new features we are testing in our beta and which we expect to release in the first half 2010."

So then, those who purchased the 2010 software from online retailers, such as Newegg.com or Amazon, will get the features they paid for, once they are available. At the time this article was published, the 2010 line was currently not available for sale on McAfee's own site. Instead, you can only purchase the 2009 lineup. McAfee must be aware however, that there are versions of their software being sold as the 2010 line, and condone it. There is just no way McAfee could miss so many major retailer's selling their newest line of products.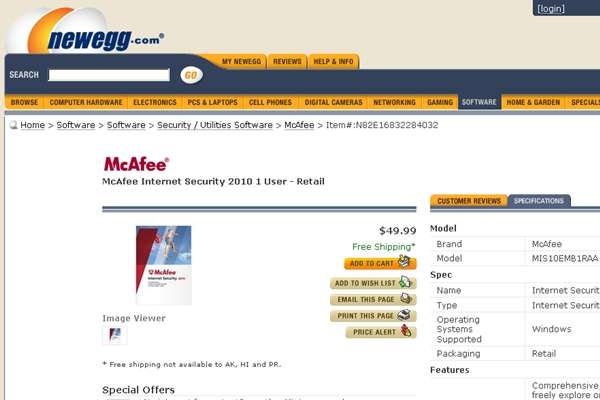 Dawn Forrester, in a post to the McAfee Beta Message Boards, mirrored the spokesperson's comment, by telling beta testers that, "The 2010 Retail project, which has been released includes the latest Total Protection Suite at the time of manufacturing. It is not the current Beta McAfee Total Protection 2010 Suite."
"The 2010 Retail product is designed to automatically update to the latest available version at install time. When the current beta version of the product is complete and ready for production release, the CD will install it via a web download."
This moves things back into the question of is it fair to the consumer to have to wait for those features when they purchased the software expecting them?
Adding to the confusion would be the consumers who do not know what they are getting. They just ordered the newest version of their chosen package. Moreover, until the software is completely out of beta, those who purchased the 2010 product online might need to deal with issues commonly associated with beta software, after the installation takes care of updates.
Perhaps my opinions are off. Maybe in the world of security software sales this is just how business is done. I don't think it is, but I'm not running a business that makes hundreds of millions of dollars a month.
You could also make the argument that since it is constantly updated software, the version in the box might only be a few months old. However, what happens when it is installed without an Internet connection to update? There is still the issue of the fact that while there are constant updates, this comes off as a product being sold and then delivered in parts. Imagine purchasing a Playstation 3, only to discover that the hookups and controllers will come later.
Another thing that hits home for me is that a recent report on TheStreet.com, where Jefferies analyst Katherine Egbert said that, "McAfee is set to surpass Symantec as the largest enterprise security provider, perhaps as soon as this quarter. With a macro recovery possibly on the way, McAfee seems well-positioned for the second half of the year."
Competition is a great thing, but is it fair to beat your rivals by selling old product in new packaging? I'm being harsh, I know, but only because I cannot grasp why McAfee is doing this.
So is this bad business? In my opinion, yes it is. It would appear that the move to package existing software inside shiny and new 2010 box is nothing more than keeping up with the Jones' for the sake of the rat race that is sales.
Is this false advertising? Again, my opinion is that it is false advertising, as well as misleading for some consumers. The box says 2010, but you are getting the same software currently sold on McAfee's site.
What do you think? Since the installation process will update the software version sold on CD with all current code, which is currently in beta testing, is it ok to repackage the same product? Leave your thoughts below.
[This editorial is the opinion of Steve Ragan and not necessarily those of the staff on The Tech Herald or the Monsters and Critics (M&C) network. Comments can be left below or sent to [email protected]]

Like this article? Please share on Facebook and give The Tech Herald a Like too!