The Tech Herald is covering the protests taking place today at the Indiana Statehouse. People are gathering to protest a recent Indiana Supreme Court ruling, which says that citizens have no right to reasonably resist unlawful entry by police. Their anger is that the ruling contradicts common law and weakens the Fourth Amendment of the U.S. Constitution.
3:00 p.m. EST
Now that the protest at the Indiana Statehouse is over, some major takeaway points are clear. Freedom is a precious and fragile thing. The rights of a person must be respected, but protecting and respecting those freedoms means weighing them in accordance to the law. This is never an easy thing.
However, no matter where a person stood on the wall of politics, today was about personal freedom, and protecting established rights more than three hundred years old.
"We're not here to speak for any one group or party or to promote an interest other than the rights of Indiana citizens," said Emily Veno, one of the college students responsible for organizing today's events.
"We're also not here to disrespect the officers of the law who make daily sacrifices to protect our communities and our families. This is a sensitive issue for a lot of people, who feel as though their rights are being trampled upon, and we appreciate the respect and the level-headedness that everyone has shown in coming together to make this a peaceful and successful protest," added Stephen Skolnick, who is the other college student that helped launch today's protest.
"Concerned citizens voicing their opinions are an integral part of the system of checks and balances in the United States, and it's inspiring to see so many people speaking out against a ruling that they disagree with," Veno concluded.
Before today, Veno and Skolnick weren't active in any political circles. However, as they learned about the May 12 decision, they took issue with it.
"Before we knew it, a conversation over Facebook chat had become a thousand person Facebook event, that appears to be making a real difference," Veno explained.
While nearly 2,000 pledged to attend, most of them watched the coverage online. Yet, the crowd of almost 300 people who did attend was nothing to scoff at. Political experts and evangelists who attended today's protest were quick to give credit and respect to the students for their efforts and hard work.
As for Veno and Skolnick, today had them excited and they were smiles all afternoon.
Below are some other images from the protest, including a sign that addresses another issue that is a hot topic in Indiana lately, Planned Parenthood funding. However, the overall tone of the day was set by Skolnick in his closing remarks during his speech.
"The message that we're trying to send here is that any one of you can take action in your communities. Anyone of you can be the domino that sets off a chain, and causes social change for the better. The system works best with active and vocal participation. So I urge you all to take this kind of an issue, find something that your passionate about, or something that needs changing, and start the movement."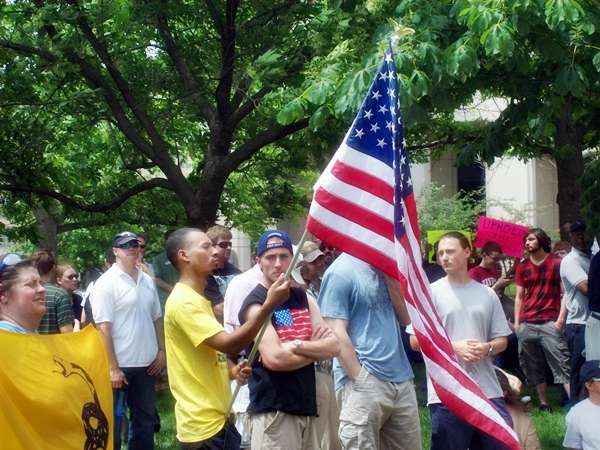 12:00 p.m. EST:
It's humid in downtown Indianapolis, and there's a strong chance of rain today. Adding to the interesting mix of situation is the construction around the Statehouse offering the sounds of jackhammers and heavy trucks.
Arriving early, we were not surprised by the lack of visible protesters. What did surprise us were the random chats with Statehouse staffers, most of whom were unaware of the protest.
Considering the coverage in town over the court's ruling, and the coverage locally of the protest itself, the lack of awareness is curious. Those who did know about the pending protest were looking forward to watching a show. Anything to breakup a workday.
As the morning moved forward, protesters started arriving, but far less than the nearly 2,000 who have pledged to attend. The general consensus is that they will arrive by the early afternoon. This line of thought is current with the expectations of the Indiana State Police, who are planning for a rush of people once lunch rolls around.

The girls were up most of the night making this sign, one of the first and the largest so far to arrive at the Statehouse.
"I think it's time that we as Americans stand up...because if we don't stand for something we'll fall for anything," explained Cliff Payne, one of the people protesting today.
He and his son Rick drove for about an hour, and were one of the first to arrive ahead of the noon protest. "These Justices, when they took office, they were supposed to defend the Constitution, not rewrite it," Rick Payne added, explaining why he joined his father.
The mood is serious, but those who have arrived are positive and friendly. There are several discussions, most centering on law, but more than a few who are reminding one another that this is about the court and police. As the State Police patrol, they are treated with a high degree of respect and courtesy.
We will update soon with more images and thoughts.
11:00 a.m. EST:
To add additional information and comments to the original update, Indiana State Senator Mike Young (R-District 35) has recently commented that the ruling is outrageous. During the 2012 legislative session, Young says he plans to craft legislation clarifying Indiana's self-defense law; giving Hoosier's a legal right to resist a police officer's unlawful entry into one's home.
"Our forefathers fought for a right to live freely without fear of unwarranted intrusion by an oppressive government," Young said. "Certainly times have changed since then, but this right is among the most basic we have and should not be tampered with in any way."
Young is not alone. Indiana Governor Mitch Daniels said he too was puzzled by the ruling, but noted, "…they [the court] have the last say" in an interview with NWI on Tuesday. Daniels' general counsel commented that the "no retreat" law signed in 2006 would seem to trump the case law cited by the court in their 3-2 ruling.
The 2006 law states:
"…a person is justified in using reasonable force against another person if the person reasonably believes that the force is necessary to immediately prevent or terminate the other person's trespass on or criminal interference with property lawfully in the person's possession, lawfully in possession of a member of the person's immediate family, or belonging to a person whose property the person has authority to protect…." [IC 35-41-3-2]
By Tuesday evening, nearly 2,000 people said they were attending today's protest. In an interview, Indiana University law professor Charles Geyh told the Indianapolis Star that he doesn't feel the public protest will prompt any changes to the Indiana Supreme Court's ruling. In fact, he noted that they would face even greater scrutiny if they bowed to public opinion.
Of those 2000 expected, it's not clear as of yet if all of the of them will show. However, The Tech Herald was recently directed to an announcement online explaining that one group of loosely associative individuals should be expected in downtown Indianapolis today. It looks as if Indy might catch a glimpse of Anonymous
Individuals within the legion, who does not forgive or forget, said that Indiana should expect them as part of Operation-Indiana. The Anonymous operation has some simple goals; chief among them is seeing Barnes v. the State of Indiana overturned. In addition, the operation wants to punish the Justices who supported the recent ruling by denying them re-election in 2012.
"This is not about Barnes. This is not about being against the police. This is about an expectation of privacy secured by the Fourth Amendment…This is about justice. This is about liberty. This is about ideas," a poster promoting the operation explains.
Completely non-violent, those who wish to take part are encouraged to attend today's protest, as well as spread information about the Barnes ruling as far as possible. They are encouraged to bring positive attention to the protest, as well as be creative with how they get the message out. As mentioned, the secondary goal will come from the voting booths.
"The favoring judges need to be punished for their support of this ruling. They are up for election in 2012. They must not win. Make an example out of them for their assault on the [Fourth] Amendment."
The Operation-Indiana poster can be viewed here.
Barnes vs. the State of Indiana:
The story of today's protests starts in 2007. Police responded to a "domestic violence in progress" dispatch, and arrived at the apartment of Richard Barnes and his wife Mary. He and Mary had been arguing while he was in the process of moving out.
During the argument, Barnes' wife attempted to place a call to her sister. Barnes grabbed the phone, and threw it against the wall, prompting Mary to place the call to 911. As police arrived, Barnes was questioned and responded that they were not needed.
After a shouting match, Barnes returned to the apartment. As he entered the apartment, followed by the officers on the scene, Barnes attempted to block the doorway. At the time, the court transcripts report that Mary urged Barns not to "do this" and to "let them in."
When officers attempted to enter, Barnes shoved one against the wall. The resulting struggle led to Barnes being subdued with a taser. The scuffle led to Barnes being charged with battery on a law enforcement officer, resisting law enforcement, and disorderly conduct. He was convicted at trial, but an appellate court overturned his convictions. Later, the case would end up being heard by the Indiana Supreme Court.
On May 12, 2011, in a 3-2 decision, the Indiana Supreme Court upheld Barnes' convictions. It was during these same proceedings that the court removed the common law right to resist unlawful entry into a person's home. This, according to many who oppose the ruling, including state leaders, crushed the Fourth Amendment rights of the people of Indiana.
So what did the court say exactly?
"We hold that there is no right to reasonably resist unlawful entry by police officers. We further hold that the evidence was sufficient and affirm Barnes's convictions…this Court is faced for the first time with the question of whether Indiana should recognize the common-law right to reasonably resist unlawful entry by police officers. We conclude that public policy disfavors any such right," the ruling stated. [Ruling]
The common law right to resist unlawful police action has existed for three hundred years, and even the court's ruling noted that scholars trace its origins to the Magna Carta in 1215. However, they feel it is "incompatible with modern Fourth Amendment jurisprudence."
The reasoning is that "an aggrieved arrestee has means unavailable at common law for redress against unlawful police action," the court said. As examples, they pointed out protections such as bail, prompt arraignment, probable cause, exclusionary rules, police department internal reviews and disciplinary procedures, and other civil remedies.
"We also find that allowing resistance unnecessarily escalates the level of violence and therefore the risk of injuries to all parties involved without preventing the arrest…"
Not everyone agrees. In his dissenting opinion, Justice Rucker noted that the majority made a respectable case, but added that the common law of resisting unlawful entry into a person's home rests within the Fourth Amendment of the U.S. Constitution.
"….it is breathtaking that the majority deems it appropriate or even necessary to erode this constitutional protection based on a rationale addressing much different policy considerations. There is simply no reason to abrogate the common law right of a citizen to resist the unlawful police entry into his or her home," he said.
Indiana Attorney General, Greg Zoeller said he would support a rehearing in Barnes v. The State of Indiana, because it would allow for a more narrow ruling, "that would continue to recognize the individual right of reasonable resistance to unlawful entry."
"In our brief and argument to the Indiana Supreme Court last fall, my office did not advocate for the type of ruling the Court issued last week. I believe a reconsideration is appropriate," Zoeller said in a statement.
Barnes has until June 13 to file for rehearing in order to have the court reconsider its decision.
Like this article? Please share on Facebook and give The Tech Herald a Like too!
From our Other Sites
Man Makes Tiny Edible Pancakes with Tiny Kitchen Tools (Video)

This Japanese guy cooks up some pancakes…nothing special there right? Well he uses tiny implements to do it and makes perfect little pancakes. Kinda cool and they look tasty!

Well this one has been trending all over the web, just what color is this dress? It all started in Scotland when the mother of a bride-to-be sent a picture to her daughter asking what she thought of the dress. The bride and groom each saw the image differently, this then got posted online and picked up by some viral sites. The lighting in photo is probably causing different people to see it as either white and gold or blue and black. Prof Stephen Westland, chair of color science and technology at a University in the UK told the BBC that it was impossible to see what other people see but that it was most […]

Some great shots of the forthcoming McLaren 675LT. This coupe will get you to 60mph in less than 2.9 second and go all the way to 205mph.

McLaren's 675LT will debut at this year's Geneva show and promises some eye-popping performance. The coupe only 675LT has a 3.8 liter V8 that will get you from 0-60mph in less than 2.9 seconds and to 124mph in less than 7.9 secondsMore than a third of the parts have been changed compared with its stable mate […]

Some cool McLaren 675LT Wallpaper. The McLaren 675LT is the latest coupe to come from the supercar maker and has a top speed of 205mph.Click on an image to open a page with multiple sizes that you can download to use as wallpaper for your mobile or desktop.More McLaren Wallpaper.

Octopus hunts on land, grabs crab (Video)

This crab is minding its own business searching the rock pools for food when suddenly an octopus leaps out of the water and grabs it. The amazing thing is that the octopus does not just jump on the crab it actually pulls it all the way back to the rock pool it came from. If you check the second video you will see it is not unknown for octopus to come out of the water and the one in the second video has a crab with it, though is not hunting one! Octopus Walks on Land at Fitzgerald Marine Reserve The video was taken by Porsche Indrisie in Yallingup, Western […]

This image by the Curiosity Mars rover is not exactly your typical selfie. It is made up of a bunch of images taken by the rover during January 2015 by the Mars Hand Lens Imager. This (MAHLI) camera is at the end of the robot's arm. For a sense of scale the rover's wheels are about 20 inches diameter and 16 inches wide. Check the annotated image below for more information on the surroundings. Also if you really want to see some detail click this very large image, 36mb, at NASA.

How the Sahara Helps Feed the Amazon (Video)

This cool video from NASA shows how dust is transferred across the Atlantic to the Amazon rainforest and helps nourish the plants growing there. For the first time scientists have measured the amount of dust and the amount of phosphorus in the dust. The later acts like a fertiliser and helps replenish the phosphorus the rainforest loses each year, around 22,000 tons. Amazing how something we perceive as being desolate like a desert actually has an important role in sustaining somewhere we see as teeming with life. Image and video from NASA's Goddard Space Flight Center.

Bouncing Laser Guided Bomb (Video)

This amazing video shows a laser guided bomb bouncing back up after hitting its target. We actually think this is a non-explosive bomb designed to test guidance systems but it is still pretty remarkable and somewhat scary.

South Koreans Swallowed by Sinkhole (Video)

This amazing footage taken from the CCTV on a passing bus shows the moment two pedestrians in South Korea fall down a sinkhole in the street! Rescue workers managed to save the pair, who were treated in a nearby hospital for minor injuries. According to reports the city authorities and the Korean Geotechnical Society are looking into the cause.