New PDF software pushes features and proactive security
by Steve Ragan - May 26 2010, 09:00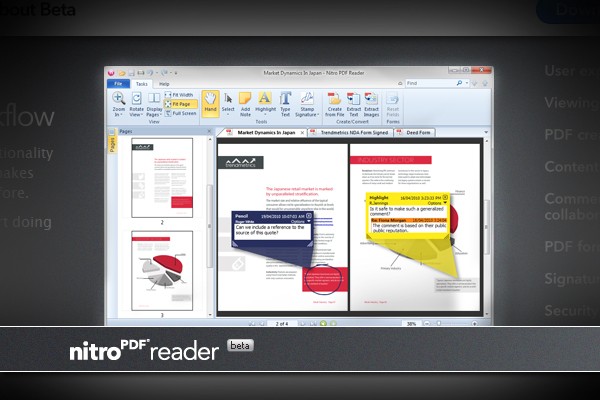 New PDF software pushes features and proactive security. (IMG:J.Anderson)
When it comes to the PDF format, you can download and install readers for almost every operating system. However, the standard is still Adobe Reader when it comes to viewing, which has always been a mainstay for desktop deployments. Now, a new offering fron Nitro PDF Inc. hopes to change things.
Nitro Reader, which entered beta yesterday, is a free offering that allows users to manage PDF files in a way that is unlike many other Adobe alternatives on the market. While not the same as Nitro's commercial offering, Nitro Reader offers enough to be considered as a serious alternative when it comes to using the software to extract text or images, insert comments, or collaborate with others within the same file. [A full accounting of features can be seen here.]
At just over 22 MB in size, Nitro Reader also has some interesting perks when you consider other comparative offerings. For all the editing and other features, there are no toolbars, no homepage changes, no default search alterations, just the Nitro software itself.
We mention this, only because those are elements of the installation for Foxit Reader, which is an established alternative to Adobe Reader in many circles. However, as you see below, text conversion, text viewer, and typewriter tools all require an install and some features will leave "evaluation" marks until an upgraded version is purchased. [See details here.]
When it comes to security, Nitro Reader offers the same ability as many of the other Adobe alternatives, even Adobe itself, as users can opt-out of JavaScript usage, and in addition, Nitro Reader will allow domain blocking, which will issue a blanket Web block within PDF files or selective URLs.
The downside to this is that the blocking isn't enabled by default. When asked why this was, Lonn Lorenz, Nitro's Chief Product Officer, told us that it was by user request. However, he noted that there is continuous third-party security auditing done on Nitro's products, in addition to those done in-house.
"We don't want to be reactive," Lorenz said, with regard to the company's stance on security. "We want to [do] all the due diligence that we can to be on the front foot with our products."
While not directly mentioned, it is a safe assumption that given all the attention aimed at the PDF format due to security related shortcomings, the year and a half spent on developing Nitro Reader included a good deal of security testing.
Now, security included, Nitro wants the world to use the newest reader and put it through its paces.
"It's ready to be used, and everything works, but the purpose of a Beta is to test the software beyond anything we can do internally, and get the feedback from our users and beyond that will shape the its long-term direction and development," the company explains in an overview of the software.
The Tech Herald will perform some testing of our own, pitting Nitro Reader against Foxit and Adobe's offering. We'll post the results soon. If you want to take part in the beta program, or just snag a copy of Nitro Reader, head here.
Around the Web
comments powered by Disqus