Pro-Life Anonymous supporter arrested after abortion hack
The Anon who defaced Britain's largest abortion provider's website, said he did so because he disagreed with the personal decisions of two women who had previously terminated their own pregnancies. Less than 24-hours after his actions, James Jeffery was arrested by Scotland Yard.
He explained his reasoning on Friday, when he took the stand in a magistrates' court in London. In addition to admitting his role in the attack on the British Pregnancy Advisory Service's website, he also pointed out vulnerabilities on the websites for the houses of Parliament and the FBI.
Jeffery's attack on the BPAS started on Thursday. He replaced the website's landing page with the defacement below. Using Twitter, Jeffery promoted his efforts via his Pablo Escobar account.
"British Pregnancy Advisory Service was attacked because they kill unborn children that have no rights. It's murder," Jeffery wrote on Twitter.
In addition to the defacement, Jeffery also compromised a database housing 10,000 records. The database stored data from women who submitted personal information to the organization via an information request form. He said in court that he later changed his mind on releasing the database, because he felt it would be wrong.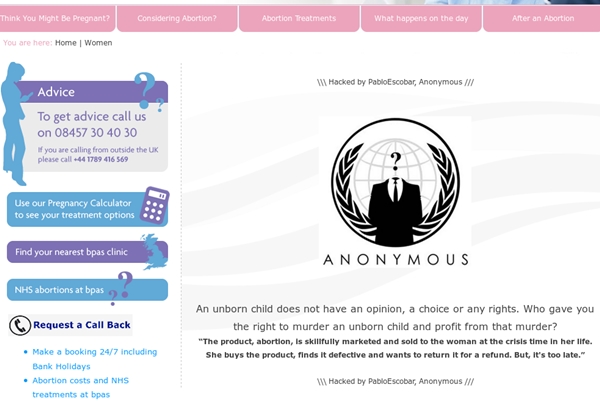 "An unborn child does not have an opinion, a choice or any rights. Who gave you the right to murder an unborn child and profit from that murder?" the defacement read.
Included with the message left by Jeffery was a quote from Carol Everett. Everett is a former abortion clinic owner and patient herself, who later credited her finding of faith as the reason for her switching to a Pro-Life stance. Here in the U.S., she is one of the leading voices in the anti-abortion movement, especially in her home state of Texas.
"The product, abortion, is skillfully marketed and sold to the woman at the crisis time in her life. She buys the product, finds it defective and wants to return it for a refund. But, it's too late." – Carol Everett
The defacement itself lasted for a few hours before the BPAS recovered their website. In a statement, the organization confirmed the attack, noting that there were more than 26,000 attempts made to breach the website over a period of six hours.
It isn't known how Scotland Yard was able to locate Jeffery so quickly, but they wasted no time in responding to the BPAS' complaint. Jeffery was charged with, and admitted to, two counts of violating the U.K.'s Computer Misuse Act. Sentencing will take place later in the year.
Like this article? Please share on Facebook and give The Tech Herald a Like too!