Quick and easy sex is more likely with Android users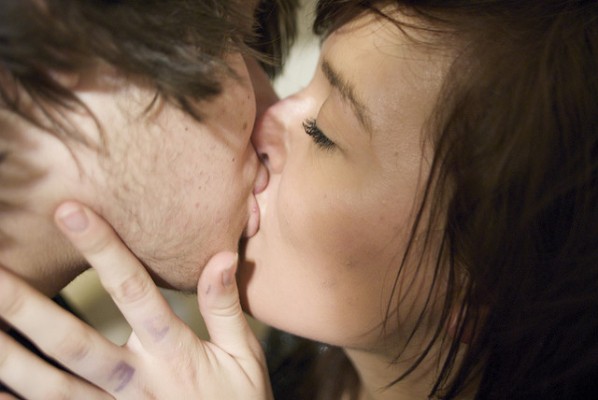 Image: DavidMartynHunt/Flickr.
Not that we believe the following for a second, but… If you're keen to improve your chances of scoring a quick physical encounter with a phone-toting member of the opposite sex, Android users are apparently more likely to hop into the sack.
That's according to a new relationship survey conducted by Match.com, which has found that smartphone users in Canada that favor Google's Android operating system tend to be more promiscuous than those carrying iPhone or BlackBerry devices.
Match's 'Relationship Insider' Kimberley Moffit reveals that 62 percent of Android owners are willing to knock boots after just one date, while 57 percent of iPhone users and 48 percent of BlackBerry owners would leap so quickly between the sheets.
Meanwhile, a notable 55 percent of Android users would be prepared to pursue the 'no strings' one-night stand angle with a newly found partner, and 72 percent have visited online dating services.
"More so than zodiac signs or astrology, smartphones are the new way Canadian singles can decode their dating style and determine if they've met their match," commented Moffitt.
If, perhaps, you're looking to hook up with a colleague across the office, the survey suggests targeting those equipped with an iPhone as almost 25 percent of respondents said they had dated someone at work within the last five years.
The misty realms of romance and whimsy are evidently reserved for wide-eyed BlackBerry users, with some 67 percent of those polled claiming to have experienced love at first sight.
Other points of wonder thrown up by the survey include: 72 percent of BlackBerry users reach for alcohol on a first date; and that 75 percent of single smartphone users believe email and texting have dramatically improved their love lives.
Like this article? Please share on Facebook and give The Tech Herald a Like too!
From our Other Sites
Man Makes Tiny Edible Pancakes with Tiny Kitchen Tools (Video)

This Japanese guy cooks up some pancakes…nothing special there right? Well he uses tiny implements to do it and makes perfect little pancakes. Kinda cool and they look tasty!

Well this one has been trending all over the web, just what color is this dress? It all started in Scotland when the mother of a bride-to-be sent a picture to her daughter asking what she thought of the dress. The bride and groom each saw the image differently, this then got posted online and picked up by some viral sites. The lighting in photo is probably causing different people to see it as either white and gold or blue and black. Prof Stephen Westland, chair of color science and technology at a University in the UK told the BBC that it was impossible to see what other people see but that it was most […]

Some great shots of the forthcoming McLaren 675LT. This coupe will get you to 60mph in less than 2.9 second and go all the way to 205mph.

McLaren's 675LT will debut at this year's Geneva show and promises some eye-popping performance. The coupe only 675LT has a 3.8 liter V8 that will get you from 0-60mph in less than 2.9 seconds and to 124mph in less than 7.9 secondsMore than a third of the parts have been changed compared with its stable mate […]

Some cool McLaren 675LT Wallpaper. The McLaren 675LT is the latest coupe to come from the supercar maker and has a top speed of 205mph.Click on an image to open a page with multiple sizes that you can download to use as wallpaper for your mobile or desktop.More McLaren Wallpaper.

Octopus hunts on land, grabs crab (Video)

This crab is minding its own business searching the rock pools for food when suddenly an octopus leaps out of the water and grabs it. The amazing thing is that the octopus does not just jump on the crab it actually pulls it all the way back to the rock pool it came from. If you check the second video you will see it is not unknown for octopus to come out of the water and the one in the second video has a crab with it, though is not hunting one! Octopus Walks on Land at Fitzgerald Marine Reserve The video was taken by Porsche Indrisie in Yallingup, Western […]

This image by the Curiosity Mars rover is not exactly your typical selfie. It is made up of a bunch of images taken by the rover during January 2015 by the Mars Hand Lens Imager. This (MAHLI) camera is at the end of the robot's arm. For a sense of scale the rover's wheels are about 20 inches diameter and 16 inches wide. Check the annotated image below for more information on the surroundings. Also if you really want to see some detail click this very large image, 36mb, at NASA.

How the Sahara Helps Feed the Amazon (Video)

This cool video from NASA shows how dust is transferred across the Atlantic to the Amazon rainforest and helps nourish the plants growing there. For the first time scientists have measured the amount of dust and the amount of phosphorus in the dust. The later acts like a fertiliser and helps replenish the phosphorus the rainforest loses each year, around 22,000 tons. Amazing how something we perceive as being desolate like a desert actually has an important role in sustaining somewhere we see as teeming with life. Image and video from NASA's Goddard Space Flight Center.

Bouncing Laser Guided Bomb (Video)

This amazing video shows a laser guided bomb bouncing back up after hitting its target. We actually think this is a non-explosive bomb designed to test guidance systems but it is still pretty remarkable and somewhat scary.

South Koreans Swallowed by Sinkhole (Video)

This amazing footage taken from the CCTV on a passing bus shows the moment two pedestrians in South Korea fall down a sinkhole in the street! Rescue workers managed to save the pair, who were treated in a nearby hospital for minor injuries. According to reports the city authorities and the Korean Geotechnical Society are looking into the cause.