RSAC 2012: RSA Conference Live – Day 0
This week The Tech Herald will be covering the RSA Conference in San Francisco. To kick off our week of coverage, we figured that we would show some glimpses of the expo floor as it's being put together, including what we assume to be an ATV that HP plans to give away – or maybe they are just showing it off.
First, before we get to the images, something important happened Sunday evening that is sure to have people talking all week long.
Last Christmas, the global intelligence firm Stratfor was hacked by Anonymous. In the end, the group released 860,160 email addresses and passwords taken from Stratfor's plundered databases. However, at the time, Anonymous also claimed to have taken Stratfor's email queue. Yet, months after the breach nothing was published, so the idea that the hijacked emails would be released faded from the public's mind.
That changed on Sunday, when WikiLeaks announced that they had obtained and published the Stratfor emails in full. While WikiLeaks would not comment on where they obtained the treasure trove of communications, sources from AnonOps told The Tech Herald on Sunday evening that supporters of the AntiSec movement, who are understood to be aligned with Anonymous in this action, turned the Stratfor emails over to WikiLeaks some time ago.
The emails date from between July 2004 and late December 2011. They reveal the inner workings of a company that fronts as an intelligence publisher, but provides confidential intelligence services to large corporations, such as Bhopal's Dow Chemical Co., Lockheed Martin, Northrop Grumman, Raytheon and government agencies, including the US Department of Homeland Security, the US Marines and the US Defense Intelligence Agency. The emails show Stratfor's web of informers, pay-off structure, payment-laundering techniques and psychological methods, for example :
'[Y]ou have to take control of him. Control means financial, sexual or psychological control... This is intended to start our conversation on your next phase' – CEO George Friedman to Stratfor analyst Reva Bhalla on 6 December 2011, on how to exploit an Israeli intelligence informant providing information on the medical condition of the President of Venezuala, Hugo Chavez.
Moreover, the Stratfor emails contain "privileged information about the US government's attacks against Julian Assange and WikiLeaks and Stratfor's own attempts to subvert WikiLeaks," a Sunshine Press statement said.
"There are more than 4,000 emails mentioning WikiLeaks or Julian Assange."
Other interesting notes from the released emails include one from August 2011, in which Stratfor CEO George Friedman confidentially told his employees, "We are retaining a law firm to create a policy for Stratfor on the Foreign Corrupt Practices Act. I don't plan to do the perp walk and I don't want anyone here doing it either."
The email statement from Friedman appears to be in connection to making payments to insiders for information. WikiLeaks outright called these payments bribes.
The Tech Herald has reached out to Stratfor for comment. Previously, in a letter to the public and customer, Stratfor's CEO said that his company was lucky to have resources to fall back on.
"We are fortunate that we have the financial resources and staff commitment to survive the attack. Others might not. We are now in a world in which anonymous judges, jurors, and executioners can silence whom they want. Take a look at the list of organizations attacked. If the crushing attack on Stratfor is the new model, we will not be the last."
As for those images we promised, below are some shots of the RSA Conference's expo floor taken earlier today. Based on how things look, several vendors seem to be going all out this year.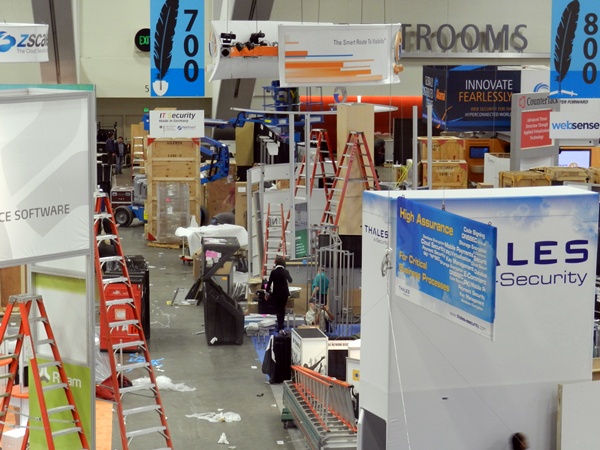 Like this article? Please share on Facebook and give The Tech Herald a Like too!