RSAC 2012: RSA Conference Live! – Day 1
10:30 a.m.
Later this morning Jen will post some of the images she has taken from around the conference, but in the mean time, here is one with an amusing back story. This year at the RSA Conference, the press rooms moved. In order to help us locate them, in the event that the announcement emails were missed earlier this month, this fellow here makes the new location easy to spot.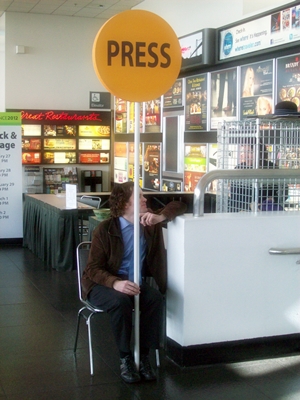 Later this afternoon, we'll be meeting with a vendor who is attending the RSA Conference for the first time, and Raf Los from HP. We'll update this story with more news and information shortly. If you have suggestions, such as where you'd like us to send Jen this week (evil laugh) as she walks the floor, or questions about a vendor attending the show, leave a comment and let us know.
10:00 a.m.
A quick note for those of you who are not able to make it to everything this week here at the show, you can watch some things online, as long as you've registered for the show. RSA Conference offers online access to this week's content as well as opportunities to connect and collaborate. Attendees to the inaugural RSA Conference Online will have access to live activities and programming, including keynotes, through March 15.
Today, the online content includes a presentation from Rob Havelt and Wendel Henrique from Trustwave Labs, who are talking about pentesting, using amazingly true stories from real-world tests. That runs from 11:20 a.m. PST, until 11:30.
09:30 a.m.
As is the case on Monday at the RSA Conference, it's a sleepy Monday morning. Attendees are still arriving, and the registration area is starting to fill, but the human traffic this morning is still light. In the expo hall, engineers and construction crews are still rushing to put the finishing touches on the booths that will draw tens of thousands later this week.
News wise, there are few announcements this morning that are worth note, including one from PC Tools that outlines what they're doing to block scams online. For example, when it comes to keywords, burn, fat, diet, pay, buy, Acai, mango, and weight are words that will cause a message or website to be flagged. Once flagged, if the browser behavior checks and black / whitelisting checks within PC Tools' engine report malicious or scam-like symptoms, then the domain is blocked.
The same technique is also used for mobile phone scams. For that, PC Tools will watch for words such as service, bill, billed, charges, subscription(s), terms, conditions.
"There's a substantial database of keywords that our technology uses to help detect and assess potential scam websites. If a pop-up appears offering to help you 'Burn Fat Fast', but asks for payment to sign up to a super new diet plan, think twice before you go ahead," said Richard Clooke, Online Security Expert for PC Tools.
Like this article? Please share on Facebook and give The Tech Herald a Like too!