Review: Cloudmark Desktop
The Tech Herald has been testing Cloudmark's anti-Spam application, Cloudmark Desktop. After months of testing and normal hands-on usage, here are the results.
The Tech Herald was offered a chance to test Cloudmark Desktop shortly after we posted a review on another anti-Spam application called SPAMfighter.
Essentially, the two applications work in the same way, taking advantage of a global community to detect Spam. However, there are some distinct differences between the two tools.
The first difference that stands out is filtering. Cloudmark's offering is straight up. There is no need to train the filter but, depending on the volume of e-mail sent to the inbox in a single delivery, you'll notice a few hiccups that find you having to mark what is clearly Spam yourself. While rare, this is something that does happen, and is thus noted in the review.
Because you have to mark missed Spam, you could argue this is training the application. Yet, it isn't really, because the same Spam was never missed again if e-mail accounts were accessed on a regular basis. The only time this hiccup becomes an issue is when you access an e-mail account and download hundreds of messages (as seen in the image below).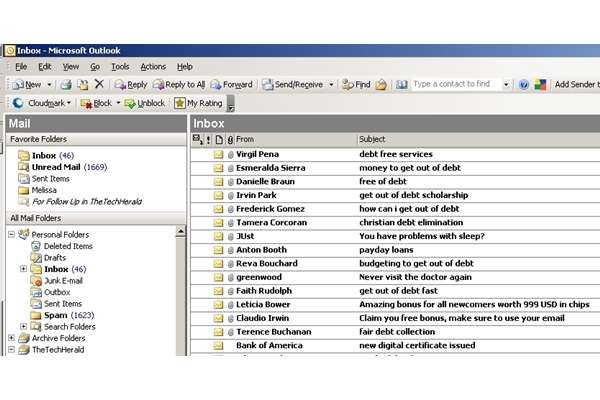 As you can see in this image, Cloudmark missed 46 of 1,669 e-mails that were downloaded in the same instance. Now, instead of marking 46 separate e-mails as Spam, you should first try the Scan Folder option Cloudmark offers. This will scan the folder you select for Spam and remove any found. During the session seen in the image, only seven e-mails were added to the Spam folder. The others missed were marked as Spam manually.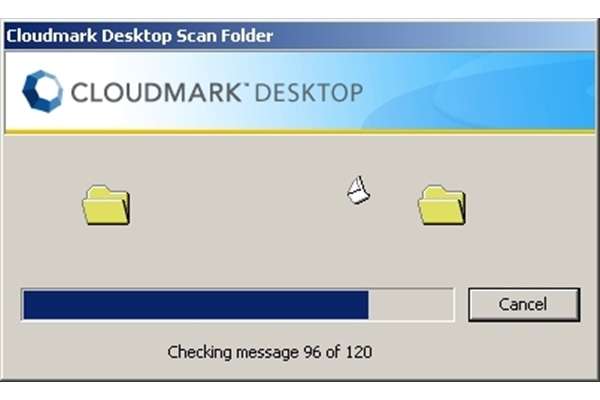 The second difference noted between SPAMfighter and Cloudmark Desktop is the usage aspect. This includes both system and application level usage. SPAMfighter caused some lag when Outlook started and threw out the occasional error.
None of these issues were noticed during the Cloudmark test; however, there was one issue where the toolbar appeared blank. Checking the support documents on the Cloudmark Web site soon solved this particular issue.
The other usage difference is based on coverage. SPAMfighter, at the time of its review, only worked with Microsoft e-mail clients.
Cloudmark works with all Microsoft e-mail clients as well as Mozilla's Thunderbird on both Windows and Mac systems. It also works with any type of e-mail account supported by these clients, including POP3, SSL POP3, IMAP, Gmail, MSN, and Yahoo. There are also plans to add Linux coverage.
So what makes Cloudmark better than SPAMfighter, or any other Spam filter for that matter?
The answer is user preference and near zero false positive. After about two weeks, the Spam folder could be safely ignored and emptied on a regular basis. Cloudmark let very few illegitimate mails pass, and all legitimate e-mail, including opt-in e-mail newsletters (often marked as Spam by many filters), appeared as expected.
There were 20,981 e-mails received during the testing period. Of that total, 15,537 Spam messages were caught instantly, with 354 messages missed (15,891 overall total Spam). The breakdown shows Cloudmark earning a 97.77 percent detection average. This is just shy of the 98 percent the company promises and the closest any vendor has come with regard to out-of-the-box performance.
At the end of the day, Cloudmark Desktop is almost flawless. It wouldn't be fair to call it completely flawless. The glitch in detection when downloading several e-mails at once sees to this, as well as the fact that no e-mail scanner will be completely perfect.
Yet, there is better client coverage and system support in Cloudmark Desktop that gives it a slight edge. While SPAMfighter and Cloudmark have a lot in common, overall the Cloudmark application simply resided in the background, often forgotten during the usage period because it needed little attention.
Cloudmark Desktop is free for a 15-day period. After that trial, it cost $39.95 USD per year. Again, the difference between Cloudmark and SPAMfighter will ultimately depend on the user, but it is worth a test drive, so check it out.
Total Score: 95/100
Note: The added score value is mostly due to client coverage, detection levels out of the box, and ease of use for the application. While similar in many ways when compared to SPAMfighter, the Cloudmark offering stands out as giving the end user more. However, use your own judgment and test each offering for the full trial period -- ultimately you're the one facing monetary investment. Not everyone will have the same opinion or experience as we did here at The Tech Herald.
Like this article? Please share on Facebook and give The Tech Herald a Like too!