Review: RoboForm password manager
The Tech Herald is kicking off a series of reviews centered on password management. To start things off, we selected RoboForm, one of the most recognizable password managers on the market, and took it for a test drive.
RoboForm works in both Firefox and Internet Explorer versions 7 and 8, and once you get over a learning curve, is a snap to mange and use. However, Safari, Opera, and Chrome are not supported. Siber Systems says that Safari support on Mac will come in 2009, as well as support for the iPhone. Chrome support is due later this year as well.
RoboForm saves passwords in what are called PassCards. Using these, once you start to access a webpage with an associated PassCard, RoboForm will automatically log you into that site. In addition, RoboForm can collect personal and sensitive information from you and store it. This feature is called Identities by RoboForm. Later, when forms online call for the stored information, RoboForm will fill it out for you.
The catch is that before you use Identities, you have to be willing to store things such as credit card details, bank information, addresses, birthdates, and Social Security Numbers in an application. A RoboForm feature called SafeNotes will securely story things like ATM pin numbers, but again personal trust will come into play here.
Installing RoboForm takes a few minutes, but was rather quick. During the install process you must create a master password. This password is what protects the PassCards as well as Identities and SafeNotes. It is important that it be both long with a mix of characters and easy to remember. If you lose this password, it cannot be recovered. Only you will know this password. Once you get the hang of using RoboForm, this is also the last password you will need to remember.
After about two minutes, the install process is complete, and your browser will open to a page with information and tutorials for RoboForm. Watch these tutorials and read the information, it is important that you do so.
If you skip the information offered at first, then you could wind up lost in the sheer volume of options and features RoboForm offers. This fact, while great that so much is packed into one application, is also a downfall for anyone who wanted straightforward password management. It can take some time to work through RoboForm's various features and menus, so the offered help is something that is highly recommended.
Using RoboForm
The first time you use RoboForm, youíll realize how smart it was to check out the documentation. There is just so much going on in the toolbar, it can look frightening. However, this is just a first glance perception. Once you get used to the various menus and options, youíll see everything has a place and most of it is quick to access.
The easiest way to use RoboForm is to go to a portal or website that requires a login and enter the information as normal, thus creating a PassCard. You can also use RoboForm to generate strong passwords as well during account creation on any website. The documentation explains the generation process, but there are six steps in all. You can see them here.
The password generation is honestly of greater value than the password management and form filling powers of RoboForm. If the site youíre registering with can deal with the special characters during account creation, the generator on RoboForm creates passwords that would ruin the day of anyone who attempted to crack them.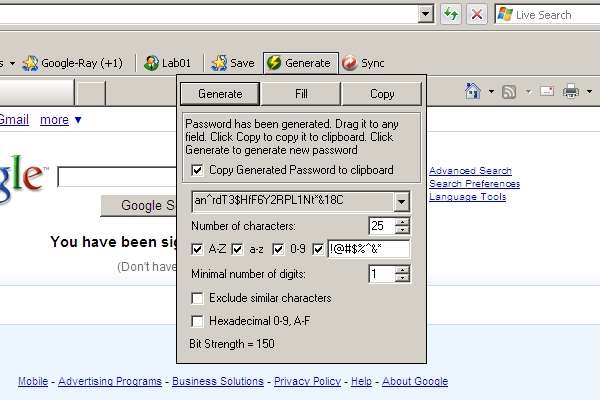 The bookmark function is great as well. You can take any of the PassCards and send them to the desktop, where they will act as a shortcut for a website or web-based application. Once accessed, they launch the browser and login.
Form filling, thanks to Identities, takes all the trouble out of applications, registrations, and other information gathering processes online. Within the Identities section, you can house any type of data. Most of the kitchen sink is included in the Identities section, but if there is data that doesnít have a default form, you can create custom fields. The only limit to this type of storage and collection of personal and sensitive information is trust. If you can trust RoboForm to secure it, and get past that hurdle, then itís a great addition. However, some people are going to be hesitant about storing routing and account numbers for their bank as well as the bankís SWIFT information.
The overload of options and information aside, using RoboForm took a bit of a learning curve, but worked well. Truth of the matter is, once you get used to using RoboForm, it becomes second nature, and you never have to consider remembering passwords again. We have to admit, thereís a good reason RoboForm gets all the hype that it does, it has earned its solid reputation.
It should be noted that there are alternative products for password management available, completely free of charge no less, but not all of them are equal. RoboForm is a great buy if you donít mind parting with a small fee, and are sick of having to remember long and complex passwords.
RoboForm is available here. The cost is $29.99 USD for one license with a fee of $9.99 USD each for the second and third license. Four or more licenses ordered will earn a discount.

Like this article? Please share on Facebook and give The Tech Herald a Like too!