Over the last 30 days The Tech Herald has been testing a small e-mail application called SPAMfighter. SPAMfighter uses the power of community to filter spam from the e-mail inboxes of millions of people around the world. Overall, this is a great addition to Outlook or Outlook express and, despite some strange occurrences, works better than expected. In truth, the word 'impressive' certainly applies here.
The idea with SPAMfighter is to get people worldwide to use a single click to quickly and easily report any spam they receive.
"When enough users have blocked a spam mail, it will be automatically placed in the SPAMfighter folder for all other SPAMfighter users," the company explains.
However, while a great idea, the application itself has one huge drawback: It only works with Microsoft Outlook (2000-2007), Express, and Windows Mail (there are also settings for Exchange for business users). The application is under 10MBs in size and the cost is about $30 USD per year.
There are a few options to mess with and, out of the box, the application works as designed. The power is in the user registration that allows you to take advantage of community filtering. Currently, as of September 21, there are just under 5.5 million registered users. Each of them can help control spam by marking spam that the filter misses, and when enough people block the same piece, everyone benefits by not having to deal with the same spam repeatedly.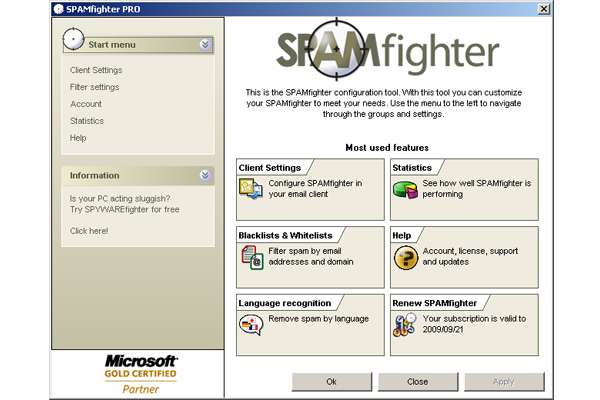 The test performed by The Tech Herald was carried out with Outlook 2003, and monitored all the e-mail for several accounts. While there are options to create a white or blacklist, the settings were left as default for testing purposes. This proves that there is little need to alter the basic installation in order to get the benefits of effective coverage.
There were 30,322 e-mails processed during the testing period. During this time, 27,625 of them were correctly blocked as spam (11 e-mails were incorrectly blocked). Moreover, 306 e-mails needed to be flagged as spam.
The percentage of coverage breaks down as follows:
SPAMfighter correctly marked 98.90 percent of the Spam, while missing one percent, with a false positive rate of less than one percent in total.
SPAMfighter caused some lag when starting Outlook, and sometimes, if there was a "read" response requested, it would throw out an error. Other than that, little can be said that is negative about the program.
There is only one issue to focus on, since using SPAMfighter the amount of spam sent to the monitored accounts has almost tripled -- add to that the spam that was previously never seen appears at a steady rate. Examples of the obscure e-mails are below.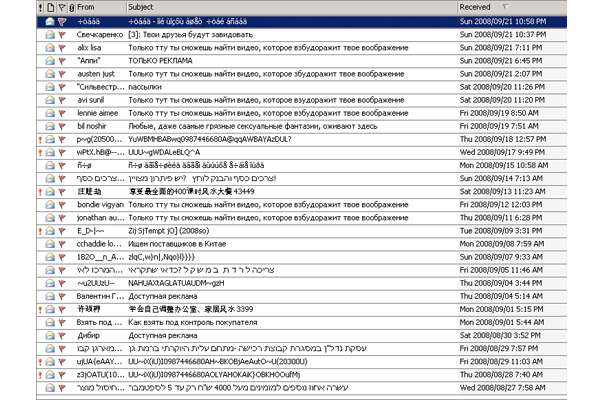 There is no proof that SPAMfighter caused this increase, but as the only change to the e-mail accounts and the e-mail software was the installation of SPAMfighter, it is worth mentioning.
SPAMfighter is free to use for a 30-day period. If you want to pay to keep it, you can get a license, as mentioned, for $30 USD. If you do not pay, it is still free but you will have a footer message added to your e-mails as they are sent out. Not that bad of a trade or expense if spam annoys you as much as it does everyone else.
While effective, SPAMfighter needs to increase its detection rate and offer coverage to more clients, instead of just Microsoft-related platforms, if it wants to tap into the main consumer market.
More information and downloads regarding SPAMfighter can be found by clicking here.
Overall, and despite the spam increase, SPAMfighter is a solid product and well worth a look.
Total Score 90/100
10pts were also subtracted because of the lack of e-mail client coverage. SPAMfighter is aimed at home consumers. Because coverage for clients like Thunderbird or coverage for the various Mac-based e-mail clients is not present, this limits the community coverage of the actual spam fighting. The more client coverage offered means a jump in the users who are likely to use the software.
Like this article? Please share on Facebook and give The Tech Herald a Like too!