While testing out hardware from another company for a separate review, The Tech Herald took a break from hardware and tested a freakishly cool bit of software. SecureZip is not what you would expect after reading some of the basic marketing materials and seeing some common screen captures. Instead, not only does it offer some decent compression, it offers seriously strong security for its price and merges well with both the home and office.
SecureZip is similar to PKZIP, which is the application that launched the ZIP format as you know it today. The huge difference between PKZIP and SecureZip is, as the name suggests, security. SecureZip offers stronger security in the form of 3DES and AES encryption, and the ability to use digital certificates.
PKZIP is an acronym, Phil Katz ZIP, named after Phil Katz who founded PKWARE in 1986. Phil Katz, sadly, passed away on April 14, 2000. However, his legacy lives on, and his work in the field of compression is still some of the coolest geek work around. Phil is the inventor of the ZIP compression method, which later turned into PKZIP that ran on DOS and sold for a shareware fee of $25.00. His story is one of David and Goliath when you read the history surrounding SEA and the ARC file format. (SEA at the time sued Phil over his software PKARC. Katz lost the suit but the online community still favored him, and his notoriety grew from their support, leading to his own company.)
Now, twenty-two years later, PKWARE is still well-known, and SecureZip is a favorite among those who want more than just compression.
The test for SecureZip was run on an Intel Pentium D 3.4 GHz CPU, with 1024 MB RAM on Windows XP Professional SP3. For this test, the various features including digital signing, encryption from MS Office, and standard desktop encryption were all covered.
One of the first things you notice is how easy the application is to navigate.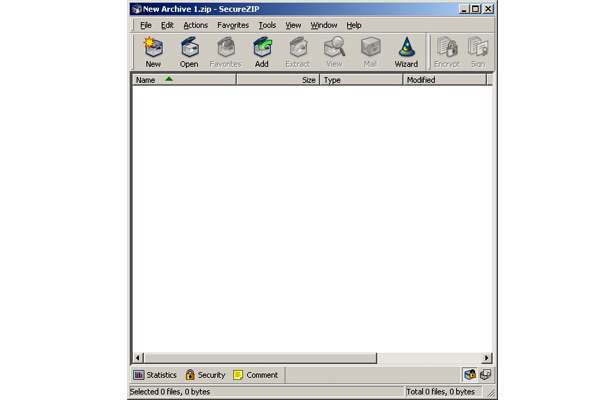 The controls work exactly like WinZip, offering point and click access to all of the features. After you install, which is a simple process of following a setup wizard, you are ready to launch the software. The easiest way to zip a file would be to right click on the item to compress and start the process.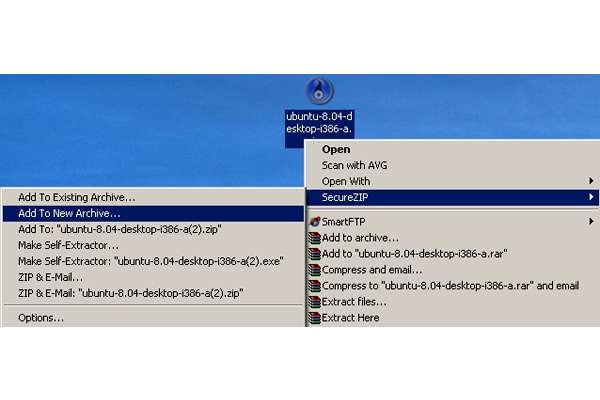 Once you pick the option you want, SecureZip launches fully and you are presented with various options. In addition, while not recommended for sensitive items, you can skip the encryption part of the process.
The compression takes a little time depending on the file size, but this is normal and rather expected. In the test, an ISO of Ubuntu was compressed and secured. The compression varied depending on the different methods, the space saved is nothing to squeal over, but a 699MB ISO lost from 5-10MB in size after tweaking some of the options.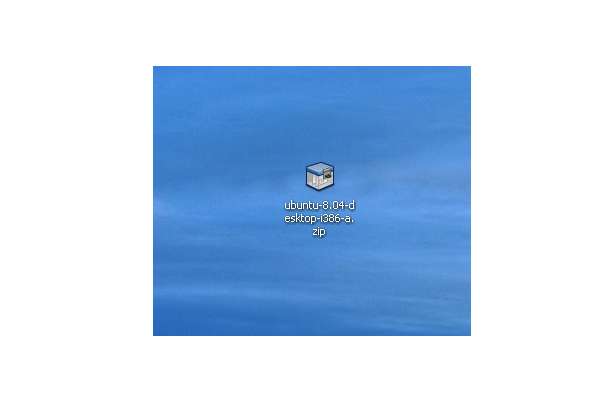 [Note: One of the impressive things during this test was that SecureZip has a great help file that is easy to use and follow. The help file is how you can learn the various compression options available to you. SecureZip offers, BZip2 (Slow and offers more compression, but takes CPU power), DCL Implode (The PKWARE Data Compression Library, faster than the default compression, but offers less saves space), Deflate64 (Faster and slightly more powerful than the default compression), and Deflate (Default and offers typical compression, slightly better than WinZip). There is also an option called store, which simply archives the data, and offers no compression.]
When securing a file, as mentioned, you can use a passkey or a digital certificate. If you do not have a digital certificate, that's ok, SecureZip can link you to several sources to obtain valid certificates free. (Click Help, then select "Get a Digital Certificate")
Getting a Digital Certificate is simple, and the wizard walks you through the process. The form to fill out asks some basic information, and once you go through the steps, the certificate is installed automatically for later use.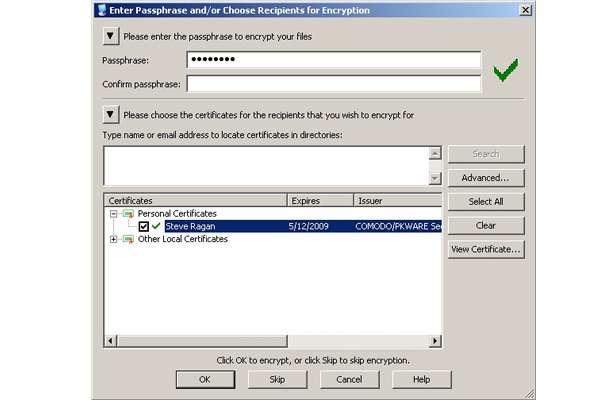 Another aspect of SecureZip, and admittedly one of PKWARE's selling points to business, is the ability to secure office documents. SecureZip is integrated into Microsoft Office, allowing you to save documents that are encrypted for privacy and an added layer of data security. You can also secure and automatically attach files to email, with the built-in support.
Speaking of compatibility, SecureZip will access and work with all of the common formats including, ZIP, PKSFX, BZ2, TBZ, BZ, CAB, TAR, GZ, TGZ, RAR, LZH, LHA, ARJ, UUE, XXE, HQX and JAR.
SecureZip is a good option when looking at compression and security. Various programs offer security for their design, as you can password protect WinZip and WinRAR archives as well. The down side is that neither WinZip nor WinRAR can be as intergrated into both personal and business use as the offering from PKWARE.
The retail cost for SecureZip is about $30.00. However, why pay when you can get a personal license free? The full software and all features are available online from http://www.securezip.com/.
So what are the uses for this? Sure, the application is free, it is useful for those who are paranoid about security, but how can it be used in business?
One possible application came to light after an online test of the email security. The person who was the guinea pig mentioned that the business use would come in handy for small development pods. Documentation drafts can be secured according to compliance and shared with the rest of the team using a common passkey or certificate.
Other development use would be coders who want to ensure that their code is held safe, but the source is not taking up too much space. Department and compliance managers can use it to cover sensitive information. Adding to that, there is the HR stance. Memos can be secured and emailed or folders secured and archived with personnel information inside them.
Personal use would cover documents and personal items you want to securely store. If you used a shared computer in the house, then locking up documents and other things like expense reports or billing information is one way to keep them safely out of the eyes of anyone but those who need to know them.
There is one important note when using this tool. While this would not apply to securing files with digital certificates, it is important to remember to use random and strong passwords on the items that are archived and secured. The security offered does you no good if the password you picked looks like this: p2ssw0rd. (This was given the green check mark in the previous images.)
Pros:
SecureZip is easy to use, offers great integration, and for the price, simply worth the time to look into. It would serve either a home or business well.
Impressive documentation offers help on every aspect of the program.
Cons:
The passkey enforcement is rather weak, it gave an ok to "p2ssw0rd" which was picked up quickly during brute force attempts to open the archive.
The process of compressing and securing a file, while point and click in nature, could be streamed down a bit to a single menu or option page instead of various steps.
Rating:
1. Ease of use and features
2. Compatibility with existing formats and programs
3. Security and security management
4. Practical usage for home and office
Score:
1. 20 (Point and click yes, but sometimes this was daunting to cover so many steps.)
2. 25 (It works with all the known compression formats, and Microsoft Office.)
3. 15 (It allowed a common password "p2ssw0rd" and cleared it as ok.)
4. 25 (there are so many uses, you couldn't list them all.)
Total: 8.5 out of 10
SecureZip is recommended for both home and office use. It would make a decent layer of security for anyone who needs it.
Like this article? Please share on Facebook and give The Tech Herald a Like too!