Rogue NYTimes.com ad leads to fake anti-Virus (Update 2)
Rogue NYTimes.com ad leads to fake anti-Virus.
Update 2:
Kerry Scott from the New York Times sent over the following:
"The culprit masqueraded as a national advertiser and provided seemingly legitimate product advertising for a week. Over the weekend, the ad being served up was switched so that an intrusive message, claiming to be a virus warning from the reader's computer, appeared.
"As soon as we were made aware of the situation, we took aggressive steps, suspending all third-party advertisements on the site. We posted information about the attack on our home page and directed readers on what to do if they encountered the malicious code."
In addition, NYT has taken steps to ensure it doesn't happen again by giving the advertising platform a makeover.
Update:
While we haven't yet heard back from anyone over at NYT, Troy Davis offers a good technical look at the attack through his official blog.
Original article:
On Sunday afternoon, The New York Times issued a warning that some readers were being directed to a website offering anti-Virus protection following the appearance of infection pop-up alerts. Such infection notices, and the resulting fake scans that report dozens of supposed infections, is a common ploy used by rogue anti-Virus software.
"We believe this was generated by an unauthorized advertisement and are working to prevent the problem from recurring. If you see such a warning, we suggest that you not click on it. Instead, quit and restart your Web browser," said the NY Times in a post to readers.
The rogue anti-Virus, an example of which can be seen below, is a gimmick that actually generates decent income for some of the criminals who spread it. They are paid for getting someone to install it, and will sometimes take a cut if someone registers it.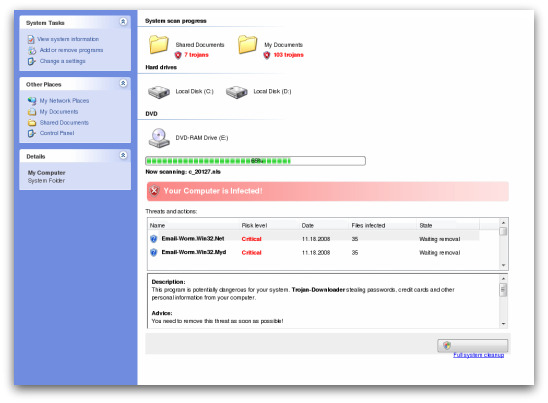 The situation is grim either way for the user because, if not registered, the rogue anti-Virus will hinder system performance, block access to various websites and security applications, as well as open the system for further malicious downloads. If the fake software is registered, not only is there a loss of money, but any personal information submitted during the registration process is compromised as well.
What is known so far is that the rogue anti-Virus attack came from the advertisements served on NYTimes.com. There was no pattern to the anti-Virus warnings, which appeared as an article was loaded. Reports on CNET as well as All Things D, had readers commenting that the malicious ads were shown with several articles both past and present.
The problem is that NYTimes.com uses different channels for advertisements, so the appearance of rogue anti-Virus ads might be the freak result of a blind ad buy. In the past, legitimate ads have been hijacked to serve Malware by advertising networks that either didn't catch the malicious ads in screening, or simply do not check the ads ordered. To that end, there is no clear explanation for the fake alerts at this time.
The Tech Herald has asked the New York Times for more information on the attack, as well as an update on the overall issue. We will refresh this article if and when the publication responds.
Want regular updates from The Tech Herald? Follow us on Twitter.
Interested in a more interactive TTH? Join our Facebook Group.
Like this article? Please share on Facebook and give The Tech Herald a Like too!
From our Other Sites
Man Makes Tiny Edible Pancakes with Tiny Kitchen Tools (Video)

This Japanese guy cooks up some pancakes…nothing special there right? Well he uses tiny implements to do it and makes perfect little pancakes. Kinda cool and they look tasty!

Well this one has been trending all over the web, just what color is this dress? It all started in Scotland when the mother of a bride-to-be sent a picture to her daughter asking what she thought of the dress. The bride and groom each saw the image differently, this then got posted online and picked up by some viral sites. The lighting in photo is probably causing different people to see it as either white and gold or blue and black. Prof Stephen Westland, chair of color science and technology at a University in the UK told the BBC that it was impossible to see what other people see but that it was most […]

Some great shots of the forthcoming McLaren 675LT. This coupe will get you to 60mph in less than 2.9 second and go all the way to 205mph.

McLaren's 675LT will debut at this year's Geneva show and promises some eye-popping performance. The coupe only 675LT has a 3.8 liter V8 that will get you from 0-60mph in less than 2.9 seconds and to 124mph in less than 7.9 secondsMore than a third of the parts have been changed compared with its stable mate […]

Some cool McLaren 675LT Wallpaper. The McLaren 675LT is the latest coupe to come from the supercar maker and has a top speed of 205mph.Click on an image to open a page with multiple sizes that you can download to use as wallpaper for your mobile or desktop.More McLaren Wallpaper.

Octopus hunts on land, grabs crab (Video)

This crab is minding its own business searching the rock pools for food when suddenly an octopus leaps out of the water and grabs it. The amazing thing is that the octopus does not just jump on the crab it actually pulls it all the way back to the rock pool it came from. If you check the second video you will see it is not unknown for octopus to come out of the water and the one in the second video has a crab with it, though is not hunting one! Octopus Walks on Land at Fitzgerald Marine Reserve The video was taken by Porsche Indrisie in Yallingup, Western […]

This image by the Curiosity Mars rover is not exactly your typical selfie. It is made up of a bunch of images taken by the rover during January 2015 by the Mars Hand Lens Imager. This (MAHLI) camera is at the end of the robot's arm. For a sense of scale the rover's wheels are about 20 inches diameter and 16 inches wide. Check the annotated image below for more information on the surroundings. Also if you really want to see some detail click this very large image, 36mb, at NASA.

How the Sahara Helps Feed the Amazon (Video)

This cool video from NASA shows how dust is transferred across the Atlantic to the Amazon rainforest and helps nourish the plants growing there. For the first time scientists have measured the amount of dust and the amount of phosphorus in the dust. The later acts like a fertiliser and helps replenish the phosphorus the rainforest loses each year, around 22,000 tons. Amazing how something we perceive as being desolate like a desert actually has an important role in sustaining somewhere we see as teeming with life. Image and video from NASA's Goddard Space Flight Center.

Bouncing Laser Guided Bomb (Video)

This amazing video shows a laser guided bomb bouncing back up after hitting its target. We actually think this is a non-explosive bomb designed to test guidance systems but it is still pretty remarkable and somewhat scary.

South Koreans Swallowed by Sinkhole (Video)

This amazing footage taken from the CCTV on a passing bus shows the moment two pedestrians in South Korea fall down a sinkhole in the street! Rescue workers managed to save the pair, who were treated in a nearby hospital for minor injuries. According to reports the city authorities and the Korean Geotechnical Society are looking into the cause.