Sky watchers to enjoy planet alignment this week
If you are a fan of planetary alignments, then you are in for a treat come the pre-dawn hours this week. According to the University of Texas at Austin, via the McDonald Observatory, four planets will be visible to the naked eye starting on Monday.
The alignment fun starts on Monday, but on the morning of May 10, things will get interesting. Venus and Jupiter will stand side by side, easily spotted on a clear horizon if one were to look to the low east.
"They are the brightest objects in the night sky after the Moon. Venus is the brighter of the two; Jupiter is to its left. Mercury is visible to the lower right of Venus, about the same distance as Venus is to Jupiter. It isn't nearly as bright, but its proximity to Venus will help you find it. Finally, Mars is about twice as far to the lower left of Jupiter," explained a statement from the editors of StarDate magazine.
According to the experts, the best view will be in the southern states, as the path the planets follow across the sky (the ecliptic) stands at a little higher angle relative to the horizon.
The image and video below explain the planet's positions throughout the week.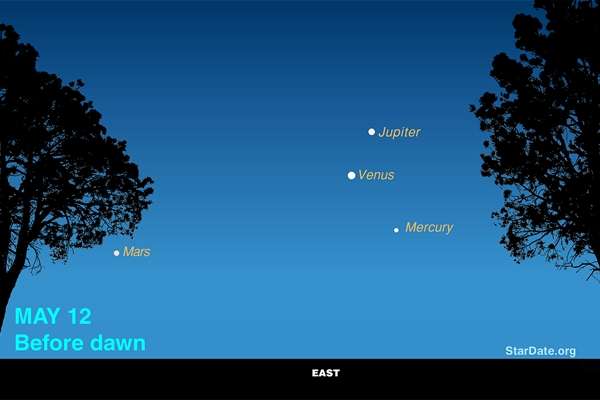 Like this article? Please share on Facebook and give The Tech Herald a Like too!