Torrent download spiked with copyright protection software
While someone in the RIAA surely called this a case of criminals scamming criminals, imagined poor humor aside, there is nothing comical about fake "Antipiracy foundation scanner" that takes aim at BitTorrent users.
It starts with the warning, as seen in the image below from F-Secure, the security vendor who first alerted the public to the scam. The warning explains that there has been a copyright violation, and that "Windows has detected that you are using content that was downloaded violating copyright of its respective owners. Please read the following bulleting [sic] and try to solve the problem by one of the recommended ways."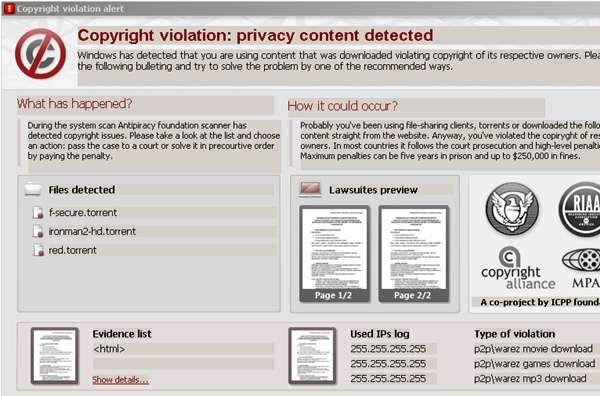 Much like Rogue anti-Virus, the "Antipiracy foundation scanner" will harass you each time the computer is rebooted. You are given the option to view evidence, which only leads you to a WHOIS script and displays a list of torrents on the hard drive, send the case to court, or settle by paying a pre-trial order.
The payment page seems to collect credit card information and personal details only, harvesting them instead of processing the $400.00 USD transactions, which include a legal license, copyright fine, a fee for the use of software tracking the "illegal file downloads" and traffic fee. While the card might not be charged right away if it is entered into the form, you can be sure charges to it will come soon enough.
"Do not pay these clowns," explains F-Secure, adding that you should instead clean your system with legit anti-Virus software. F-Secure's online scanner (ols.f-secure.com) will detect and remove the infection.
It is interesting to note that the criminals pushing this fraud even started a website to back it. The site, iccp-online.com, has been taken down, but before it crashed and burned it promoted the organization as "a law firm which specialises in assisting intellectual property rights holders exploit and enforce their rights globally."
"We have developed effective and unique methods for organisations to enforce their intellectual rights. By working effectively with forensic IT experts, law firms and anti-piracy organisations, we seek to eliminate the illegal distribution of copyrighted material through our revolutionary business model."
The "revolutionary business model" must be a new term for harvesting data and keeping profits for themselves. In addition to this scam, the listed owners of the site have been linked to scams related to Koobface and the Zeus Trojan.

Like this article? Please share on Facebook and give The Tech Herald a Like too!