Ungrateful Xmas kids use Twitter to bash parents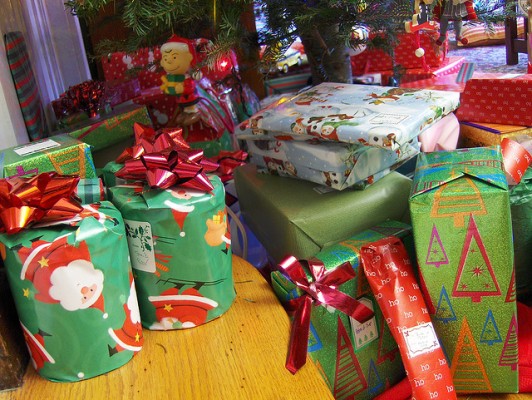 Image: Joe Shlabotnik/Flickr.
For kids enduring Christmases of old, the crushing disappointment associated with opening unwanted presents was later shared with close friends beyond the earshot of adults.
However, moaning about the despicable mistakes made by unloving parents and other out-of-touch relatives has now become a trending topic on Twitter.
Specifically, ungrateful tykes everywhere have been using the micro-blogging platform to bring their whining discontent to the world—for which they deserve the shaming they've subsequently received from comedy writer Jon Hendren (@fart).
"I'm still depressed over the fact that my mom ordered the while iPhone 4S instead of the black one for me," tweeted the astonishingly ungrateful azwan azni on December 25.
We sincerely hope the mother in question saw this post, promptly returned said iPhone, and bought herself something pretty with the cash.
"welp my christmas is pretty much ruined," offered poor unfortunate nicole rose, "im not getting my car till after tomorrow. so much for a car with a big red bow in the driveway."
"If i wake up tomorrow, open every present & there is NO iphone, I'm knocking over our Christmas tree and moving out," declared jenny majamaki on Christmas Eve.
Hendren apparently spent much of his Christmas Eve and Christmas Day idly seeking out and retweeting bitter messages from miserable kids after taking advantage of the Twitter search function.
Time well spent, we say. Especially if it highlights exactly how spoilt and shallow people have become in this ugly consumerism-driven society of ours. Shameful.
Here are a few more, just to hammer the point home:
"No Iphone," offered a distraught Paul Reyes. "I hate my dad."
"I wanted a car, I got a computer," wept Chris Bauer, "how's that for being born under a bad sign."
"returning my kindle fire and getting an iphone… this is bullshit," exclaimed Sydnie Cook.
Check out more examples by visiting Jon Hendren's official Twitter account.
Like this article? Please share on Facebook and give The Tech Herald a Like too!
From our Other Sites
Man Makes Tiny Edible Pancakes with Tiny Kitchen Tools (Video)

This Japanese guy cooks up some pancakes…nothing special there right? Well he uses tiny implements to do it and makes perfect little pancakes. Kinda cool and they look tasty!

Well this one has been trending all over the web, just what color is this dress? It all started in Scotland when the mother of a bride-to-be sent a picture to her daughter asking what she thought of the dress. The bride and groom each saw the image differently, this then got posted online and picked up by some viral sites. The lighting in photo is probably causing different people to see it as either white and gold or blue and black. Prof Stephen Westland, chair of color science and technology at a University in the UK told the BBC that it was impossible to see what other people see but that it was most […]

Some great shots of the forthcoming McLaren 675LT. This coupe will get you to 60mph in less than 2.9 second and go all the way to 205mph.

McLaren's 675LT will debut at this year's Geneva show and promises some eye-popping performance. The coupe only 675LT has a 3.8 liter V8 that will get you from 0-60mph in less than 2.9 seconds and to 124mph in less than 7.9 secondsMore than a third of the parts have been changed compared with its stable mate […]

Some cool McLaren 675LT Wallpaper. The McLaren 675LT is the latest coupe to come from the supercar maker and has a top speed of 205mph.Click on an image to open a page with multiple sizes that you can download to use as wallpaper for your mobile or desktop.More McLaren Wallpaper.

Octopus hunts on land, grabs crab (Video)

This crab is minding its own business searching the rock pools for food when suddenly an octopus leaps out of the water and grabs it. The amazing thing is that the octopus does not just jump on the crab it actually pulls it all the way back to the rock pool it came from. If you check the second video you will see it is not unknown for octopus to come out of the water and the one in the second video has a crab with it, though is not hunting one! Octopus Walks on Land at Fitzgerald Marine Reserve The video was taken by Porsche Indrisie in Yallingup, Western […]

This image by the Curiosity Mars rover is not exactly your typical selfie. It is made up of a bunch of images taken by the rover during January 2015 by the Mars Hand Lens Imager. This (MAHLI) camera is at the end of the robot's arm. For a sense of scale the rover's wheels are about 20 inches diameter and 16 inches wide. Check the annotated image below for more information on the surroundings. Also if you really want to see some detail click this very large image, 36mb, at NASA.

How the Sahara Helps Feed the Amazon (Video)

This cool video from NASA shows how dust is transferred across the Atlantic to the Amazon rainforest and helps nourish the plants growing there. For the first time scientists have measured the amount of dust and the amount of phosphorus in the dust. The later acts like a fertiliser and helps replenish the phosphorus the rainforest loses each year, around 22,000 tons. Amazing how something we perceive as being desolate like a desert actually has an important role in sustaining somewhere we see as teeming with life. Image and video from NASA's Goddard Space Flight Center.

Bouncing Laser Guided Bomb (Video)

This amazing video shows a laser guided bomb bouncing back up after hitting its target. We actually think this is a non-explosive bomb designed to test guidance systems but it is still pretty remarkable and somewhat scary.

South Koreans Swallowed by Sinkhole (Video)

This amazing footage taken from the CCTV on a passing bus shows the moment two pedestrians in South Korea fall down a sinkhole in the street! Rescue workers managed to save the pair, who were treated in a nearby hospital for minor injuries. According to reports the city authorities and the Korean Geotechnical Society are looking into the cause.