The Best Buy Black Friday deals are here. This is the day that almost every store, including Best Buy, has some of its beset bargains that are not repeated for the rest of the year.
As the economy slowly starts to revive itself, companies such as Best Buy are trying to offer a well-deserving boost with deep discounts and very attractive offers. Every store has its own version of must-see Black Friday deals, and Best Buy has some of the best ones.
Best time to shop Best Buy Black Friday deals
The Best Buy's Black Friday sale will run for three days starting on Thanksgiving Day. For buyers who can't make it to Best Buy or are waiting for a last-minute price-buster, you can shop online and the retail giant is giving three days to get in on the shopping action.
Some of the most eagerly awaited large-ticket items include Smart TVs, and Best Buy has a huge selection of deals. The Insignia 50-inch 4K UHD LED FireTV edition is down to just $149.99, which is $200 less than the MSRP. Similarly, TCL's 75-inch 4K UHD Smart TV with Android OS sports a sale price of $499.99, which is $300 off from the MSRP.
Apart from these brands, companies such as SONY, LG, Samsung, etc. also have their large selection of Smart TVs on offer at great prices. The range starts from just $99.99 for a 32-inch 720p LG and goes all the way up to $1799.99 for the SONY Bravia 65-inch 4K UHD OLED Smart TV.
Best Buy tech products Black Friday deals
Best Buy has also collated several products in its 2020 Black Friday ad that are a must-have for the modern-day home. The Smart Home collection from Best Buy includes the Netgear AX5200 Dual-Band Wi-Fi router with Wi-Fi 6 support for just $149.99. Then there is an entire range of Smart Light Bulbs that connect to the Wi-Fi network and be remotely controlled with voice commands. They start at just $19.99 for a pack of four, and go up to $99.99 for a 3-pack with several features.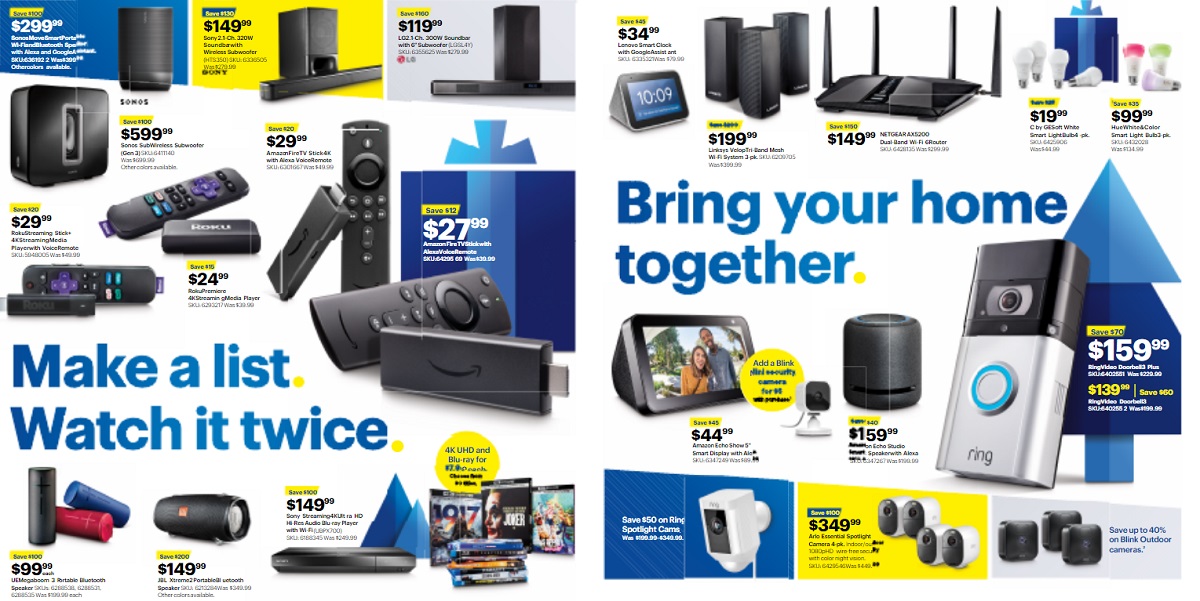 Buyers with a large home who are in need of surveillance will appreciate Linksys Velop Tri-Band Mesh Wi-Fi system available for just $199.99. This Wi-Fi will offer reliable connection to smart doorbells with audio-video two-way communication.
Bundle game deals
An avid gamer is always on the lookout for great game deals, and Best Buy has come up with a good selection of games for Black Friday that are available at attractive prices. Additionally, Best Buy is also selling the new Microsoft Xbox Series S and X variants with a deeply discounted Xbox Game Pass.
Some of the compatible games such as Spiderman, Doom, Red Dead Redemption, etc. are available for just $19.99 each. Nintendo Switch games cost about $39.99 each, and Best Bey is knocking off 50 percent on select Nintendo Switch controllers.