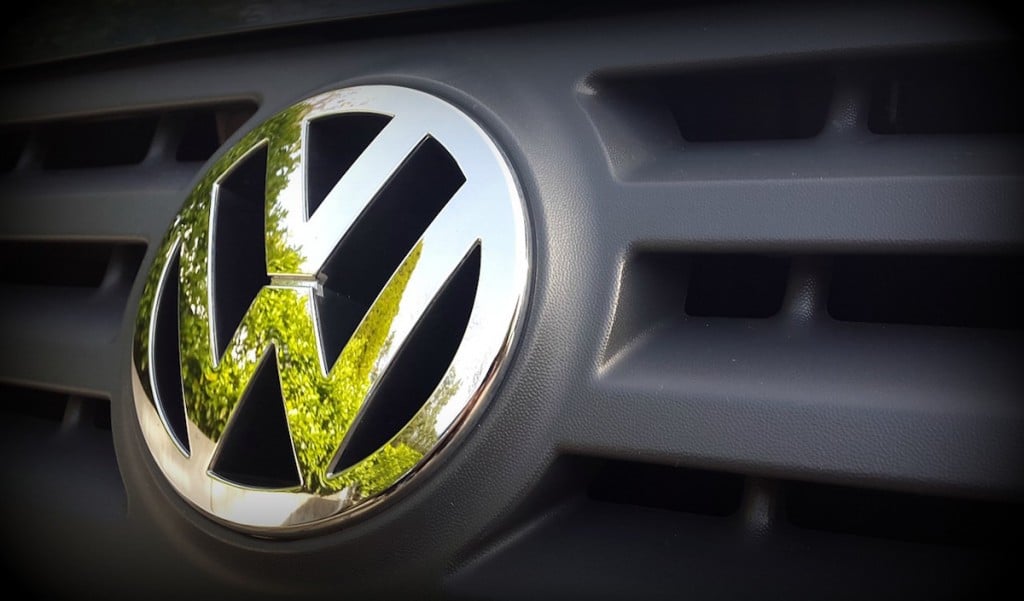 The Volkswagen Group (VOWG_p.DE) sold 9.93million vehicles to customers in 2015 despite the emissions scandal and its fall-out.
That was down by just 210,000 on its 2014 sales figure of 10.14million, and more than the 9.73million vehicles the group delivered in 2013.
The Volkswagen brand itself saw a drop of 4.8 per cent year-on-year, the first time the brand has posted a fall in sales in 11 years.
But VW was still the group's biggest seller, with 5.8million vehicles shifted from January to December, compared to 6.1million in 2014.
Sales, Marketing and After-Sales chief Jürgen Stackmann said: The Volkswagen brand did a good job last year in the face of challenging conditions.
Matthias Müller, who replaced Martin Winterkorn as CEO of Volkswagen Group after the emissions debacle, said: Delivering almost ten million vehicles is an excellent result, particularly in view of the continued challenging market situation in some regions as well as the diesel issue in the final quarter of last year.
The biggest market by far for Volkswagen AG was Europe, where the company sold a total of 4million vehicles.
In the US, where the firm was found to have cheated diesel emissions tests, the group sold 607,000 units compared to 599,700 in 2014.
Volkswagen Group 2015 Sales Figures
Deliveries to customers
by markets
December
2015
December
2014
Change.
(%)
Jan.-Dec.
2015
Jan.-Dec.
2014
Change.
(%)
Europe
311,200
312,600
-0.5
4,045,400
3,945,200
+2.5
Western Europe
257,500
256,200
+0.5
3,430,200
3,274,300
+4.8
      Germany
95,200
93,200
+2.1
1,289,100
1,239,300
+4.0
Central and Eastern Europe
53,700
56,400
-4.7
615,100
670,900
-8.3
      Russia
16,300
26,100
-37.5
174,300
275,800
-36.8
North America
85,100
83,200
+2.3
931,800
892,800
+4.4
      USA
56,000
57,100
-2.0
607,100
599,700
+1.2
South America
34,500
67,800
-49.2
558,300
794,800
-29.8
      Brazil
25,100
55,500
-54.8
389,900
629,800
-38.1
Asia-Pacific
360,900
372,900
-3.2
3,934,900
4,057,700
-3.0
      China
329,200
336,200
-2.1
3,548,600
3,675,300
-3.4
Worldwide
834,800
881,000
-5.2
9,930,600
10.137.400
-2.0
Deliveries to customers
by brands
December
2015
December
2014
Change.
(%)
Jan.-Dec.
2015
Jan.-Dec.
2014
Change.
(%)
Volkswagen Passenger Cars
487,700
529,500
-7.9
5,823,400
6,118,700
-4.8
Audi
158,400
150,000
+5.6
1,803,200
1,741,100
+3.6
ŠKODA
86,600
81,900
+5.7
1,055,500
1,037,200
+1.8
SEAT
28,300
31,200
-9.2
400,000
390,500
+2.4
Porsche
15,200
20,600
-26.2
225,100
189,800
+18.6
Volkswagen Commercial Vehicles
40,500
45,200
-10.5
430,800
446,600
-3.5
MAN
9,800
12,400
-21.4
102,500
120,100
-14.7
Scania (expected figures)
6,500
8,500
-23.4
76,600
79,800
-4.0
Volkswagen Group (total)
834,800
881,000
-5.2
9,930,600
10,137,400
-2.0
Volkwagen Passenger Cars 2015 Sales Figures
Deliveries to customers
by markets
December
2015
December
2014
Change
(%)
Jan.-Dec.
2015
Jan.-Dec.
2014
Change
(%)
Europe
133,300
139,700
-4.5
1,713,500
1,681,400
+1.9
Western Europe
114,300
116,700
-2.1
1,503,800
1,436,700
+4.7
      Germany
45,200
44,000
+2.7
601,000
578,400
+3.9
Central and Eastern Europe
19,000
22,900
-16.9
209,700
244,800
-14.3
      Russia
7,900
13,900
-42.9
78,400
128,100
-38.8
North America
52,700
53,400
-1.1
592,100
586,700
+0.9
      USA
31,000
34,100
-9.1
349,400
367,000
-4.8
South America
27,000
57,300
-52.8
458,200
662,600
-30.9
      Brazil
20,800
49,500
-57.9
335,600
541,700
-38.0
Asia-Pacific
251,800
254,900
-1.2
2,836,100
2,970,900
-4.5
      China
235,500
234,900
+0.3
2,630,000
2,758,200
-4.6
Worldwide
487,700
529,500
-7.9
5,823,400
6,118,700
-4.8