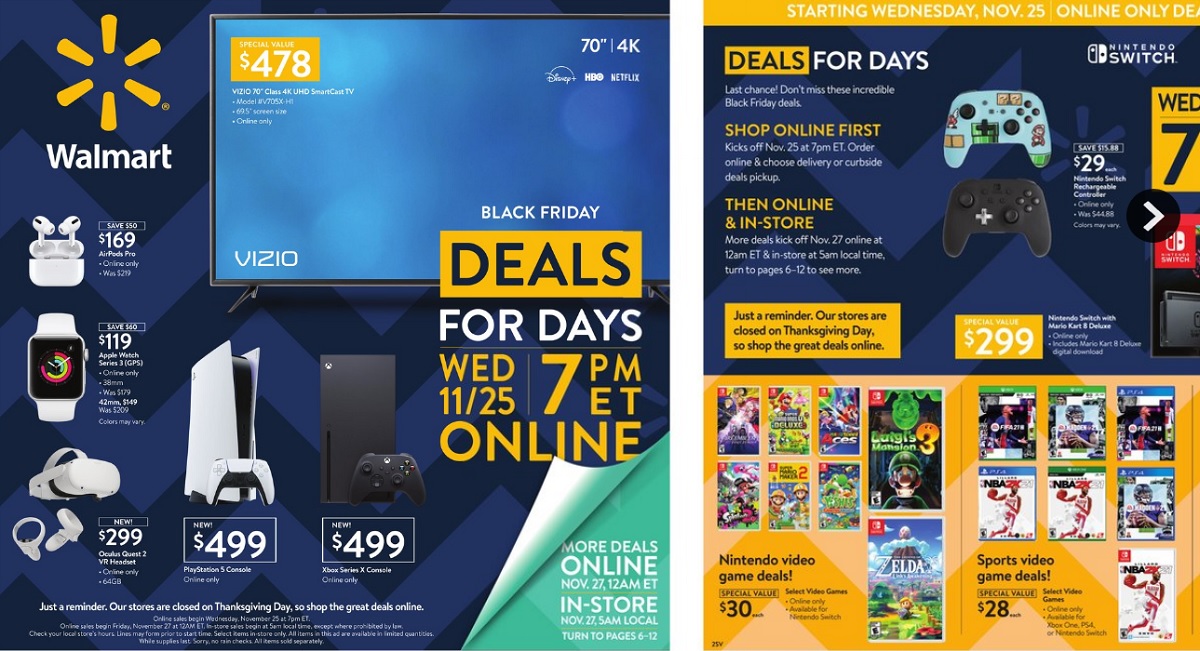 The Walmart Black Friday deals have begun — with the chain offering some of the most attractive deals around.
Walmart started offering Black Friday deals online as early as Thursday night. Here's a look at some of the best technology buys included in the Walmart holiday sale going on through this weekend.
Best time to shop Walmart Black Friday deals
The Walmart Black Friday sale will run for three straight days starting on Thanksgiving Day. Even for buyers who can't make it to Walmart or are waiting for a last-minute surprise price-buster deal, you can shop online. Essentially, the retail giant is giving a total of three days to get in on the frenzied shopping action.
Unlike Best Buy, and GameStop, Walmart is offering some limited-stock online-only deals. Some of the notable mentions include Apple Airpods Pro which are selling for $169 (usual MSRP $219), and Apple Watch Series 3 for $149 (usual MSRP $209).
Incidentally, Walmart even promises the latest Oculus Quest 2 VR Headset that Facebook launched recently. However, the retail giant hasn't offered any reduced pricing. Still, the latest Sony PlayStation 5, and the Microsoft Xbox X dedicated gaming consoles, in limited quantities, are available in Walmart's online-only deals.
Walmart game deals for Black Friday
This year, Walmart is laying a lot of emphasis on the online deals instead of the in-store ones, presumably due to the ongoing pandemic. Moreover, the retail company chose to keep its physical outlets shut on Thanksgiving Day.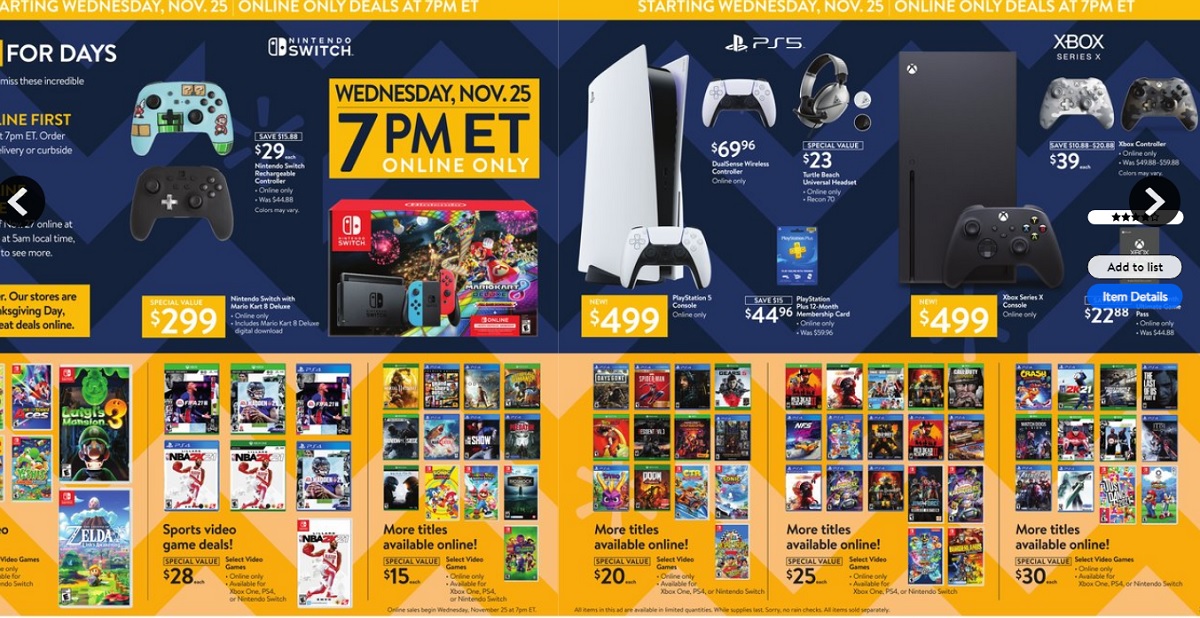 Coming to the game deals on Walmart's online store, the company is offering several games compatible with Nintendo Switch systems for an attractive price. Games such as Luigi's Mansion 3, and other Mario titles are priced at $30 each. Meanwhile, Xbox One and PS4 compatible games are selling for $28 each, with some discounted even further. Some games cost as low as $15 each.
Gamers should also watch out for several Walmart Black Friday deals on the gaming peripherals and accessories. For example, select Nintendo Switch compatible, rechargeable, game controllers have been priced at just $29 each. Meanwhile, the latest Xbox Series X controllers have been priced at just $39, making them one of the best Black Friday deals at Walmart.
Walmart Black Friday Deals on TVs and other electronics
Walmart's electronic deals for Black Friday appear to be rather limited, especially when compared to Target and Best Buy. Nonetheless, it is offering a huge 65-inch Samsung 7000 Series Ultra HD 4K Smart TV for just $478, and a 58-inch 4K UHD Smart TV for $398. Buyers, however, should watch out for the Philips Blu-Ray player selling for just $49.
Walmart is also selling several home electronics, including a robotic, autonomous vacuum cleaner with the ability to self-empty for just $329. Although the craze has long subsided, a hoverboard can be bought for just $69.
Some of the attractive deals that buyers might miss at Walmart are on the tiny devices that convert an ordinary TV into a Smart TV. Devices such as the Roku SE is selling for just $17, while the Google Nest Mini V2 or the new Chromecast is selling for just $18.98.