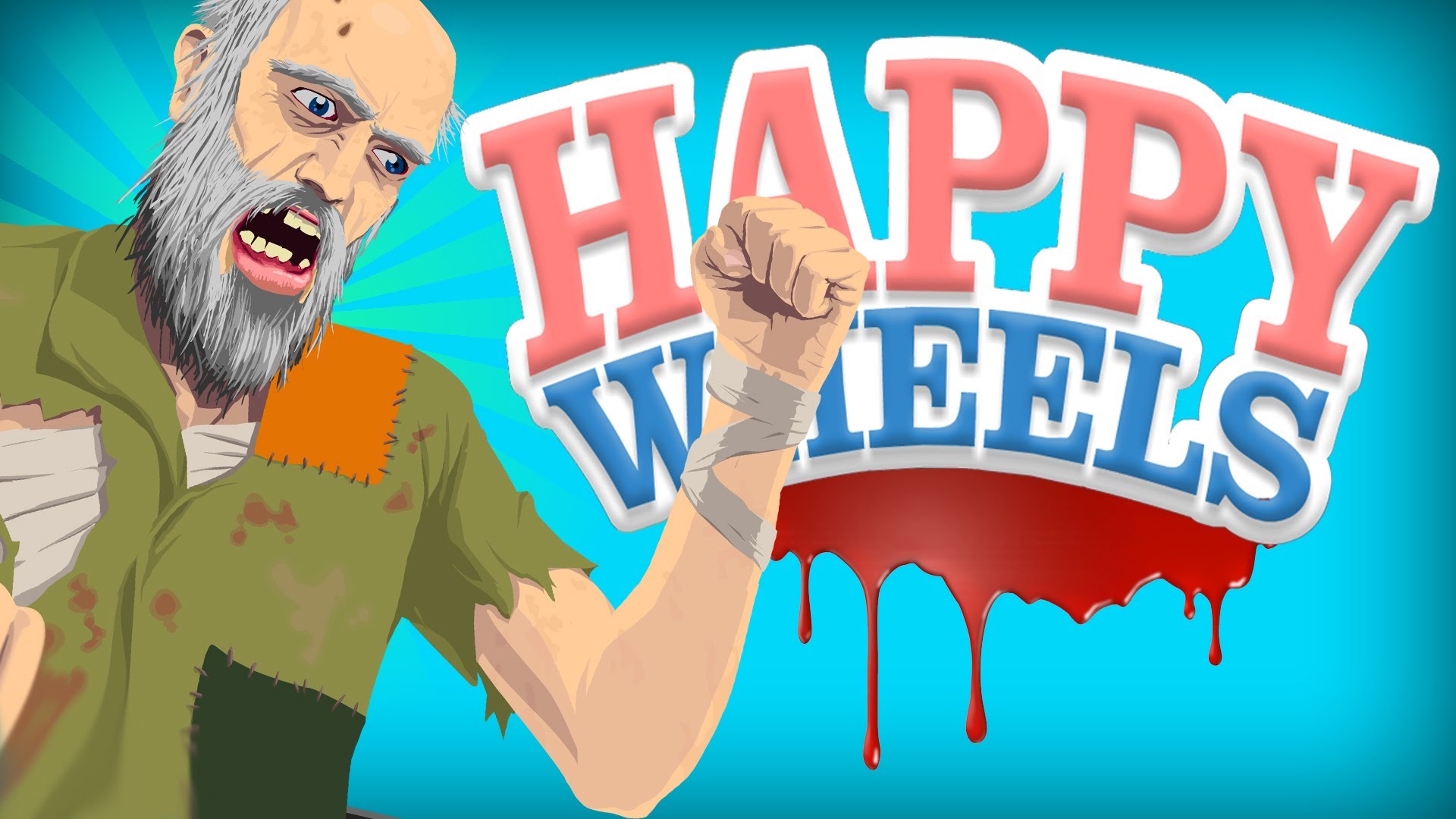 Happy Wheels started out as a project to kill time — but has ended up producing one of the most talked-about flash games in history. This unique ragdoll physics game has been around since 2010 to the delight or dismay (depending on who you talk to) of people all over the world. If you have not heard of Happy Wheels, you must have been living under a rock since this continues to be one of the most hyped indie games on the planet.
Happy Wheels: The Beginning
Happy Wheels, which we have on our sister site Autosaur, is a gory and addictive browser game created by Jim Bonacci. Though it was never his intention to create a game, it slowly evolved over time and became much bigger than he ever imagined it would. When his former boss and friend began work on a verlet physics engine, Jim became engrossed in playing around with how it worked. Skipping all the technical mumbo-jumbo, a verlet physics engine is simply a way to calculate different projected paths through computer graphics.
Jim was rather bored one day and used his friend Alec Cove's engine to produce a digital rendition of a man in a wheelchair perpetually falling down a hill. He thought it was hilarious and kept playing around with the concept, eventually leading him to create a very small game based on the premise.
Eventually, the game seemed to take on a life of its own and grew into what everyone knows as the Happy Wheels game today. Though work started on the game back in 2006, it did not reach its final completion until 2010.
Though Happy Wheels has been his biggest success, Jim Bonacci also created the equally gory Divine Intervention (which is super hard). This game takes players through a sordid killing spree as they play a priest left to kill the zombies that have taken over his peaceful town and send them back to hell.
Happy Wheels: How It's Played
Happy Wheels can be ridiculously easy or impossibly hard depending on what type of gameplay you are looking for. While many sites play host to Happy Wheels, the full version of the game can only be played on Jim Bonacci's site. But the good news is, wherever you play it, the game is completely free! You do not even have to register unless you want to rate user levels or upload your own creations.
To get started, you simply choose your character and the level you want to play. As of now, there are six million user-generated levels to choose from. There are also ten different characters you can play as:
* Wheelchair guy (the original)
* Segway Guy (think Paul Blart)
* Irresponsible Dad or Mom (kid on the back of parent's bike)
* Effective Shopper (lady with a motorized shopping cart)
* Moped Couple (love on wheels)
* Lawnmower Man (this one never gets old)
* Explorer Guy (a guy in a mine cart)
* Santa Claus (a holiday edition that is still a favorite)
* Pogostick Man (imagine the possibilities)
* Helicopter Man (with magnetic power)
Though Happy Wheels seems simple enough to play, it is not always as easy as it appears. Fortunately, users can set up their own controls on their keyboard to play the way that suits them best.
The goal of the game is to reach the exit of each level. Though you may not make it there in one piece, as long as you are still dragging your spine behind you, you win!
Along the way, you will encounter all types of obstacles which will maim and kill you in truly imaginative ways. Expect to be shot at, crushed, gored and splattered in endless ways.
While Happy Wheels is played by people of all ages, it does contain graphic violence that may not be suitable for children. Beheadings, lost limbs and gory blows to the torso are commonplace — but that's what makes it so fun to play! The developer, Jim Bonacci, made the decision to include the blood and gore because he was tired of ragdoll games that never showed the reality of a person's decisions. The characters simply flopped about endlessly, never truly dying.
If playing the game is not enough fun, users can use the level editor to create their own obstacle courses for Happy Wheels players to enjoy and then rate. The editor is fairly easy to use and features drop down menus that allow users to place shapes, boundaries, obstacles and triggering events to create unique levels for others to try. Having a high-rated level on Happy Wheels is the ultimate in respect!
Happy Wheels: Why So Popular?
Since the game was launched, Happy Wheels has continued to grow in popularity with tons of fan art being created and talks of a Happy Wheels cartoon in the works. No one is quite sure how the game rose to such a frenzy of popularity. Even Jim Bonacci is surprised the game became the hit it has!
Since its introduction to the world, Happy Wheels has been named as one of the best free games by IGN. It has also been recommended by many gaming review sites, always receiving mostly positive reviews.
Players say they love the fact they can not only enjoy playing the game, but also be a part of its evolution by editing their own levels. It's truly amazing to see some of the zany levels users have created. The great part of the game is, if you don't like one level, there are millions more to choose from.
Happy Wheels: Some Random And Amazing Facts
* There is a character called Tuk-Tuk in the works. He will drive an auto rickshaw.
* Jim Bonacci says he would also love to create a character in his likeness.
* When a character's limb has been removed, the player can still control the limb and the character will react to further limb damage.
* Many of the characters in Happy Wheels are voiced by Jim and his friends and family.
* Can't stop laughing over how your character met his end? You can save it and replay the magical moments over and over, or can even upload them for others to see.
* Though many people have offered contributions to Happy Wheels over the years, the main help Jim Bonacci received was through Jason Schymick.
If you are looking for a hilarious way to pass your time, Happy Wheels may well be what you're looking for. It's easy to see why if you are someone that does not mind a little gore with your humor, you would find this game quickly becomes addictive!