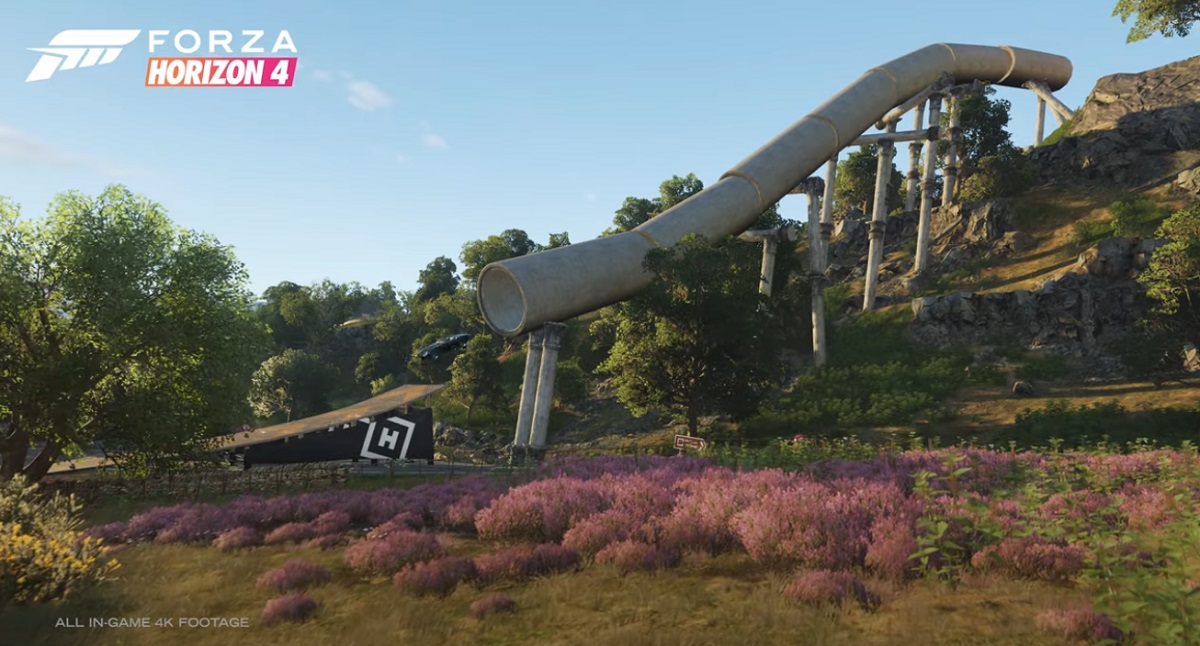 Forza Horizon 4 is getting a new update which will start arriving tomorrow. The update includes 'Super7 Mode', which allows racers to create their own tracks, complete with hurdles.
Gamers who wanted to transform Forza Horizon 4 into 'Trackmania' will get their wish. Developer Playground Games is ready with the global deployment of a new Super7 Mode for immersive racing with impressively detailed graphics and expansive racing environments.
Forza Horizon 4 Super7 Mode arrives for all versions of the game offering extensive customization:
Despite being over two years old, Forza Horizon 4 continues to remain a very popular game. The game attracts gamers across the globe because it is engaging and offers highly detailed gameplay.
To continue the engagement, Playground Games Studios, the developer company behind Forza Horizon 4 is offering the new Super7 update. Ignoring the rather confusing title, the update will add the option to create custom stunt challenges.
Gamers can place various and multiple ramps and obstacles anywhere on the map of the game. Creative racers can easily create their own custom racing maps. However, for others, there's an option to download and apply maps that have been created by other players.
Apart from the new customization option, which includes a T-rex, the Super7 Mode will also offer virtual and in-game rewards. Players who complete seven custom racing maps in a row will earn prizes, like the 1924 Austin Seven and 1979 Triumph TR7 Roadster.
Here's the official description for the Super7 mode:
"Introducing the Horizon Super7, an all-new game mode that celebrates community-created challenges. Create individual challenges based on drift, speed, air, and more. Then, when choosing to play Super7, seven randomly selected challenges appear, with each being a total surprise. If you can win all seven challenges in a row, you'll get your hands on an exclusive reward. You'll be able to enhance your challenges with Blueprint Builder, a first in Forza history, that lets you place stunts, structures, and scenery in your challenge – whatever you want, wherever you want."
Forza Horizon 4 going the 'Trackmania' route with Super7 Mode just like Forza Horizon 3?
It is interesting to note that quite a few racing games eventually end up replicating 'Trackmania' when they start showing some age. After spending a few years in the market, and especially when the race tracks have had some mileage, developers drop such an update.
Forza Horizon 4 is getting a brand new game mode called "Super7" this week.

We got our hands on this community-centric challenge mode a bit early. Here's how it works!

🎥 – https://t.co/yymbeIbwAc pic.twitter.com/ONvMlIt1zA

— Windows Central Gaming (@WCGamingTweets) December 7, 2020
Gamers who have played the Forza Horizon series aren't new to custom racetracks. The third iteration of Forza Horizon too eventually ended up transforming into Trackmania. There was no unlimited creative freedom, but the Hot Wheels update did offer multiple variations to boost the game's appeal.
Forza Horizon 4 is available now on PC, Xbox One, and Xbox Series X|S. And the Super7 Update will start arriving for all these versions starting December 8, 2020. Given the availability of the game, and its popularity, players should have no trouble finding heavily customized racetracks.