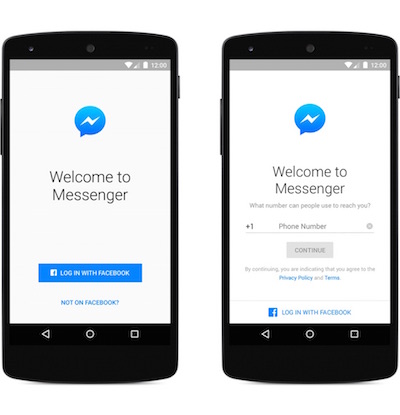 You can now sign up for Facebook messenger and use the messaging app without owning a Facebook account, the company has revealed.
The change is being implemented in the US, Canada, Peru and Venezuela but if it proves successful other countries will likely follow suit soon.
Facebook hopes that not requiring people to have a Facebook account will bring new users to the service. All you will need to do is have a cellphone number to sign up.
It means Facebook users will also be able to use messenger on more than one account if they wanted to.
The firm is trying to dominate the instant messaging market, and the change allows them to compete directly with other popular instant messaging services.
It comes after they bought WhatsApp for $22billion last October.
The Facebook Messenger home screen will now have two options when it first pops up, a Facebook login, or the option to click 'Not on Facebook?'.
You will then have to enter the phone number with which you want to link the service.
It means people using pre-paid phones will also be able to sign up, adding a level of privacy to messaging.
But by logging in without a Facebook account you are still indicating that you agree to the company's privacy policy and terms and conditions.
After the initial log-in, you are able to add a name and photo and also have the option to sync the app to your contacts list so that you can automatically message anyone on your phone.
The firm hopes this will help lead to mass distribution of the app.
Related articles across the web