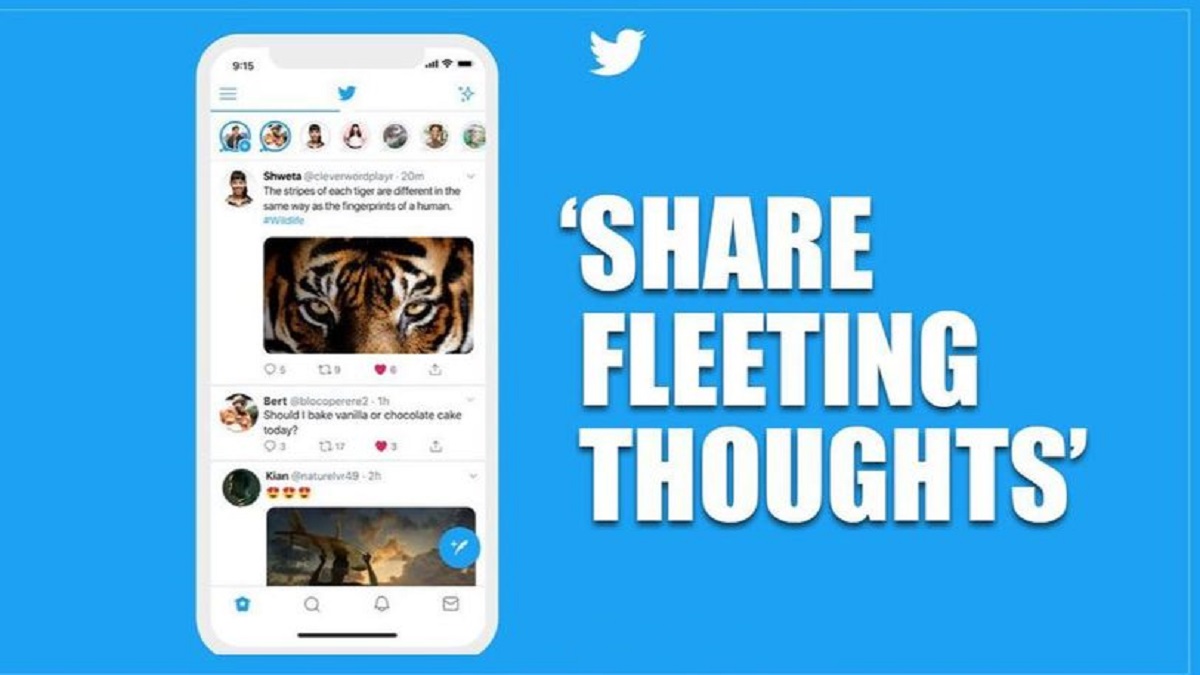 Fleets on Twitter has finally arrived for general users after spending nearly a year in beta testing.
The feature essentially allows users to post Tweets that disappear within 24 hours of posting. To ensure the new feature is easily accessible and visible, Twitter has placed Fleets right at the top of its mobile app.
Tweets were considered as a permanent record which can be easily archived or retrieved, but not anymore. Twitter has introduced Fleets.
The new tool allows Twitter users to post messages that get deleted automatically after 24 hours of posting. The micro-blogging social media platform hopes users will now post more casual thoughts and feelings without the pressure of garnering Likes or Retweets.
Fleets on Twitter meant to compete against Instagram and Snapchat Stories?
Fleets on Twitter appears deeply inspired by the Stories feature currently available for Instagram and Snapchat users.
Users can share text, respond to others' tweets, or post videos with the same background color, and overlaid text options they get on messaging apps from other social media platforms. And every message disappears after 24 hours.
That thing you didn't Tweet but wanted to but didn't but got so close but then were like nah.

We have a place for that now—Fleets!

Rolling out to everyone starting today. pic.twitter.com/auQAHXZMfH

— Twitter (@Twitter) November 17, 2020
Fleet users can also respond to others' fleets by tapping on one. Doing so will essentially start a DM conversation.
Needless to add, this behavior too is similar the 'Story reply' process on Instagram. Twitter has indicated it will gradually introduce stickers and live broadcasting sub-features.
There are some inherent limitations to using Fleets on Twitter. Apart from being deleted automatically after 24 hours of posting, there are no Likes, Retweets, or public replies to these Tweets.
Essentially Tweets sent out using Fleets on Twitter are mere thoughts that people will be able to put up on the micro-blogging network without concerning themselves about the message's impact. Moreover, users will obviously be free from the pressure of garnering Likes and Retweets.
Fleets are accessible via API after their 24-hour "expiration", and it doesn't trigger a read receipt.

So… apparently privacy and security teams also didn't get to do a basic 101-level audit before this shipped? https://t.co/0nQ0MyFBv2

— Em (@lazerwalker) November 21, 2020
As with everything on the internet, even Tweets sent out using Fleets on Twitter can be 'recorded'. Users can easily take a screenshot to keep a record.
Twitter has noted that there will be no indicator if someone screenshots one of the Fleets. Hence it is strongly advised to treat the feature with the same caution while using Twitter to send out Tweets in the traditional way.
How to use Fleets on Twitter:
As with every new feature, users must update their Twitter app on iOS and Android. It is likely that some users might not receive an update or the feature as Twitter is still rolling out the same in a phased manner. To use the new feature, users have to follow the below-mentioned procedure:
Steps to create a new Fleet:
Open Twitter app
Scroll up and tap the avatar on the top left of the user profile
A new page will appear with the message "Share a fleeting thought…", Type the desired message here.
Users can add photos and GIFs in their Fleet post.
Tap on the Fleet button to post the message, and it will stay live for the next 24 hours.